Kansas Jayhawks
Top Three Questions for Kansas Heading into Big 12 Media Days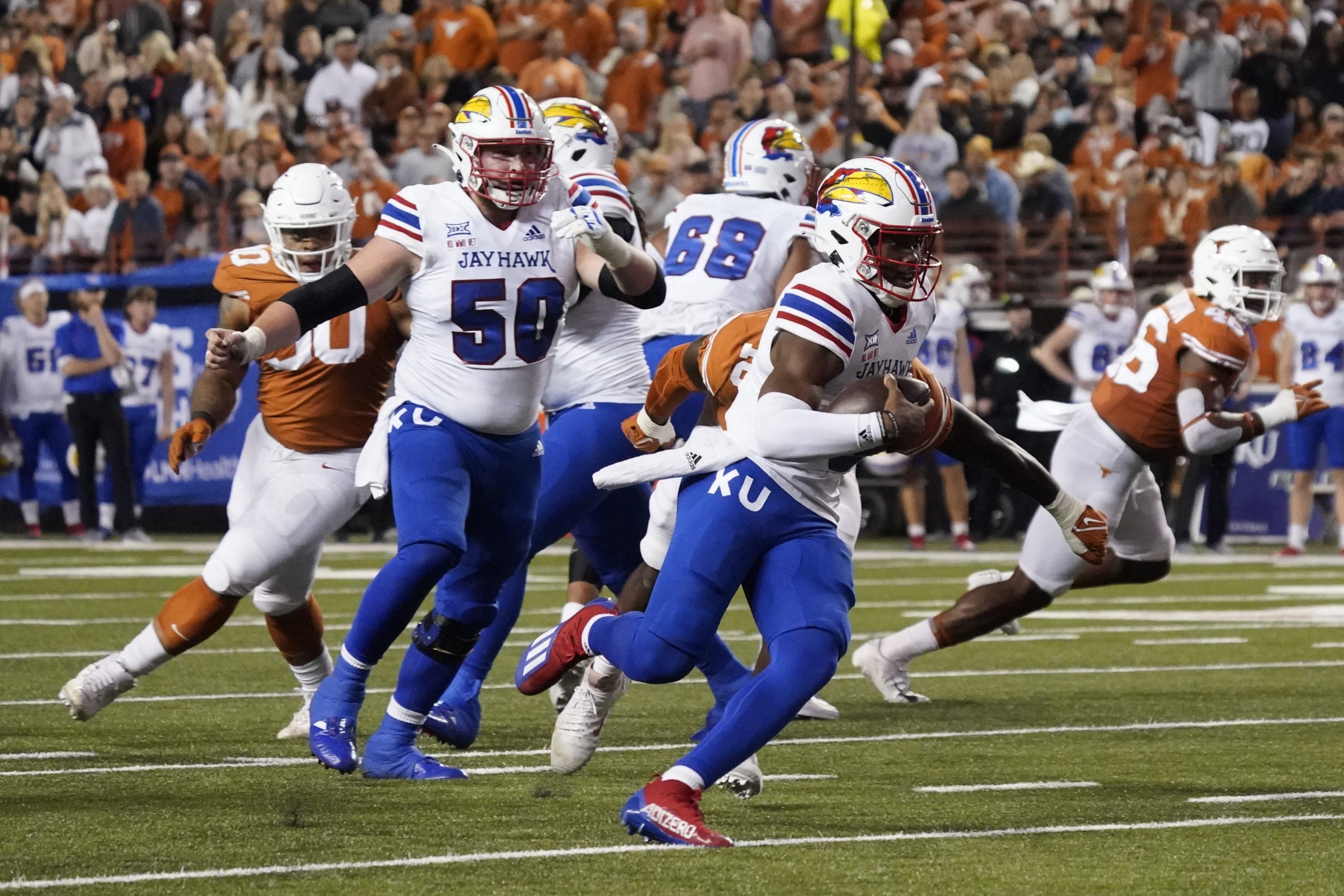 As spring turns into summer and we see the temperatures start to rise around the country, there is one thing on college football fans' minds: there are "X" days left until college football returns.
With Big 12 media days just right around the corner on July 13-14, preview season is in full swing and every fanbase across the nation has hope that their team will live up to the hype, or prove the talking heads wrong.
With that spirit in mind, here are three questions about Lance Leipold and the Kansas Jayhawks ahead of Big 12 Media Days.
Will The Transfers Fill in the Gaps?
Kansas has been historically bad for years now and has easily been one of the worst Power Five programs over the last decade. In 2021, the Jayhawks saw some glimmers of positive momentum as they led Oklahoma at halftime, had chances to beat both West Virginia and TCU and beat the Texas Longhorns on the road, their first road win in Big 12 play since 2008. KU proved that they could be competitive, but they simply lacked the talent to get over the hump.
Now, after being aggressive in the transfer portal, Leipold and Co. have added several key pieces: DE Lonnie Phelps, S Marvin Grant, S Craig Young (Ohio State), CB Kalon Gervin (Michigan State), LB Eriq Gilyard (UCF), RB Sevion Morrison (Nebraska), RB Ky Thomas (Minnesota), and OT Nolan Gorczyca (Buffalo) just to name a few. If the new transfers can fit in the way the coaching staff hopes they can, Kansas should be a much improved football team in 2022.
Can Jalon Daniels Replicate Success Over a Full Season?
When Jalon Daniels made his first start last season against Texas, he was mostly an unknown commodity around Lawrence, but now he is the favorite to land the starting quarterback gig in 2022. Daniels completed nearly 70% of his passes and was responsible for 10 touchdowns in a limited season. Now, with that under his belt, will he take the next step and become the bonafide starter for KU?
Daniels showed an ability to extend plays with his legs and exhibited good decision-making for the most part in 2021, but he will need to develop to be successful in 2022. There is film on Daniels now, and opposing defensive coordinators will be studying to see what flusters the sophomore signal-caller. If he can build on a promising finish to last season, Daniels could be a dangerous piece for the Jayhawk offense.
What is Defined as Success for Kansas in 2022?
KU will not go 12-0 in 2022. We know that. The Kansas football program hasn't been to a bowl since 2008 and hasn't had more than three wins in a season since 2009. So, how do you define success for a team that has struggled like that in recent history? Well, how about we start with the three-win cap they've been under for over a decade. If they were to double the win total from last season and get to four wins in 2022, I think it would be seen as a successful season in Lawrence.
Lance Leipold feels like the right guy for the job there, and I don't think he's going anywhere if he can build off of last year. Now, if he can find a way to win five games, or maybe even six, Leipold would deserve some Coach of the Year recognition. Kansas will be better in 2022, how much better is the question.