featured
Top Three Questions for TCU Heading into Big 12 Media Days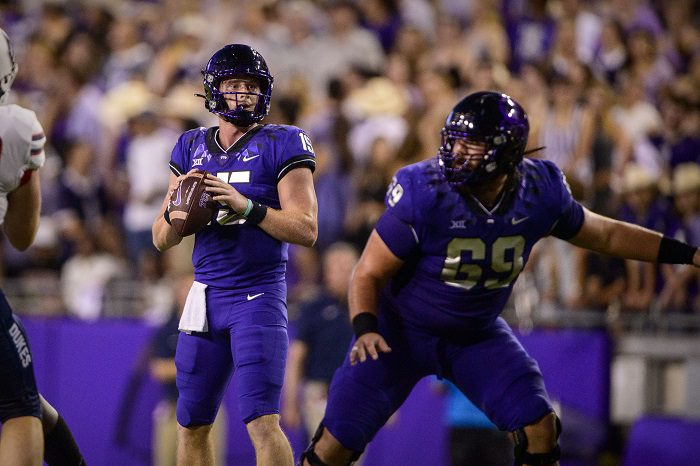 As spring turns to summer and we see the temperatures start to rise around the country, there is one thing on college football fans' minds: there are "X" days left until college football returns.
With Big 12 Media Days just right around the corner on July 13-14, preview season is in full swing and every fanbase across the nation has hope that their team will live up to the hype, or prove the talking heads wrong.
With that spirit in mind, here are three questions about Sonny Dykes and the TCU Horned Frogs ahead of Big 12 Media Days.
Can Sonny Dykes Air Raid Breath Life into TCU?
Sonny Dykes name has become synonymous with high-flying offense, which he had last year at SMU with the No. 10 scoring offense in the country with 38.4 points per game. He, along with several members of his coaching staff are now in Fort Worth, along with offensive coordinator Garrett Riley. The will bring in an Air Raid style of offense that Dykes learned from Hal Mumme himself all those years ago. Sure, Dykes has his own spin on things, as all coaches do, but TCU is going to air it out more this year than in previous years. The TCU offense last season wasn't awful by any means, ranking 41st nationally in yards per game (430.7) and 66th in points per game (28.7), but improving those numbers will definitely be on the first year head coach's slate.
Will the Defense Improve Under Joe Gillespie?
Now, it might not have been far to call the offense in 2021 terrible, but that's exactly what the defense was last year for the Frogs. TCU allowed opponents to score 34.7 points per game, good for 118th nationally, and they also gave up 222 rushing yards per game, which ranked 122nd nationally. Enter new defensive coordinator Joe Gillespie, the former defensive coordinator for the Tulsa Hurricane and things will hopefully look much different for TCU. Schematically, TCU will now run a 3-3-5 rather than the 4-2-5 that Gary Patterson implemented for years. Back in 2020, Gillespie turned Tulsa into a defensive stalwart, with the 27th-ranked total defense in the nation. Doing that over the next couple seasons at TCU would be huge for this program.
Who is QB1: Chandler Morris or Max Duggan?
The battle for perhaps the most important position in football is often the biggest offseason storyline, as it is for TCU in 2022. Two quarterbacks will return with experience from 2021, as Max Duggan and Chandler Morris both stuck around to battle it out. The 2021 starter, Max Duggan is an excellent leader and outstanding athlete, but showed a tendency to miss some throws last season. Sophomore Chandler Morris might have the higher ceiling in a Sonny Dykes' offense, as the talented Oklahoma transfer exhibited his abilities in a win over the Big 12 Champion Baylor Bears last season. Morris was electric, going 29-41 for 461 and two scores, adding 11 rushes for 70 yards and a score on the ground. Whoever comes out on top, Dykes offense is extremely quarterback friendly and should help them succeed.