featured
Top Three Questions for Kansas State Heading into Big 12 Media Days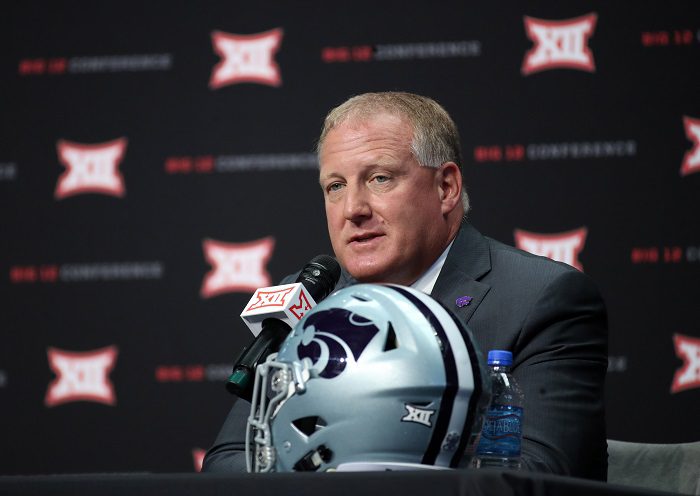 As spring turns to summer and we see the temperatures start to rise around the country, there is one thing on college football fans' minds: there are "X" days left until college football returns.
With Big 12 Media Days just right around the corner on July 13-14, preview season is in full swing and every fanbase across the nation has hope that their team will live up to the hype, or prove the talking heads wrong.
With that spirit in mind, here are three questions about Chris Klieman and the Kansas State Wildcats ahead of Big 12 Media Days.
Was Collin Klein's Offense a Fluke, or Sustainable?
In January's Texas Bowl victory over LSU, Collin Klein acted as the interim offensive coordinator after former OC Courtney Messingham was fired. In that game, K-State racked up 42 points on 442 yards and looked wildly consistent both running and passing the ball. Skylar Thompson went 21-28 for 259 yards and three touchdowns in the game, while Deuce Vaughn had 21 carries for 146 yards and three touchdowns of his own. Now, could that have been a fluke against a depleted LSU team? Certainly. However, Klein was the signal-caller for a dangerous offensive in Manhattan some years back and certainly knows his way around the field. If he can mold transfer quarterback Adrian Martinez into a carbon copy of himself in his playing days, watch out.
Can Adrian Martinez Clean Up the Turnovers?
Adrian Martinez might be one of the best raw athletes in the Big 12 and when he plays well, he is potentially one of the better quarterbacks as well. However, the drawback for Martinez has always been his inability to protect the football. Martinez started 38 games in four seasons with the Cornhuskers and served as a team captain in the last three. In those 38 games, he threw 30 interceptions and fumbled 34 times, losing 18 of those fumbles. On the flip-side of the coin, he holds a bevy of Nebraska career records, including total offense (10,792 yards), completions (670), 250-yard passing games (16), and single-season passing percentage (71.5% in 2020). If Martinez cleans up his play in 2022, Kansas State could be in for a big year offensively.
Are The Wildcats Big 12 Contenders in 2022?
This question has already been answered in my mind, but let's expand on it for a bit. K-State returns two of the biggest stars in the Big 12 with running back Deuce Vaugh and defensive end Felix Anudike-Uzomah, plus they added big names in the transfer portal like QB Adrian Martinez (Nebraska), WR Jadon Jackson (Ole Miss), S Shawn Robinson (Missouri), and LB Will Honas (Nebraska). Add to that multiple returning starters on the offensive line and wideouts Malik Knowles and Phillip Brook, along with a strong defensive line. Right now, K-State looks primed to be a real contender in the Big 12, and there are facts to back it up. That could go a long way in what looks like a big turnover year across Big 12 rosters.