featured
Top Three Questions for Texas Heading into Big 12 Media Days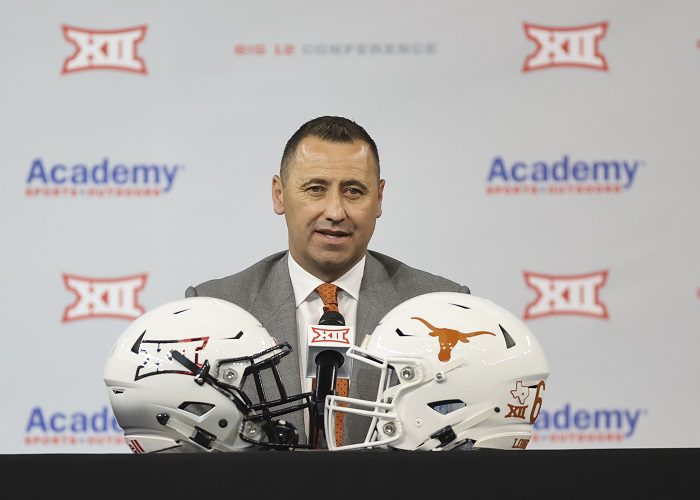 As spring turns into summer and we see the temperatures start to rise around the country, there is one thing on college football fans' minds: there are "X" days left until college football returns.
With Big 12 media days just right around the corner on July 13-14, preview season is in full swing and every fanbase across the nation has hope that their team will live up to the hype, or prove the talking heads wrong.
With that spirit in mind, here are three questions about Steve Sarkisian and the Texas Longhorns ahead of Big 12 Media Days.
Will Texas Finally be "Back" in 2022?
The preseason hype surrounding Texas has reached its summit once again as the Longhorns looked primed to make their return to football glory after a decade-long hiatus. UT is coming off a 5-7 season but the addition of Quinn Ewers and several offensive weapons, plus the return of All-American caliber running back Bijan Robinson has Texas feeling like it can make some waves this year.
However, that seems to be the case every season as the Longhorns believe they are National Championship contenders in July and by November they are fighting to get to bowl eligibility. Talent has never been the problem in Austin, and the offense wasn't the problem last year either. Can Texas finally put it together and get out of this rut?
Will Quinn Ewers Live Up to the Hype?
There have only been three quarterbacks in the history of 247Sports recruiting that have received a 1.0000 composite score: Vince Young, Quinn Ewers, and Arch Manning. While one is a Texas legend and another is their future, Quinn Ewers is the man of the hour in Austin and will be tasked with being the signal-caller in Year 2 of Sarkisian's tenure.
Texas was good offensively in 2021, but they could be special in 2022 if Ewers can stay healthy and live up to the expectations that have been placed on him. If he does that Ewers will undoubtedly be in the Heisman conversation, but we are talking about a guy that has yet to take a meaningful snap at the college level. The talent is there, no doubt, but is he ready for the pressure of being QB1 at Texas?
Is Sark's Squad Different in Year 2?
Texas was perhaps the most undisciplined team in the conference last season and it always seemed to show up in the second half of games, which cost them dearly on multiple occasions. A lack of discipline can show up in many ways on the football field: penalties, miscues on offense, blown coverage on defense, turnovers, etc. The Longhorns were guilty of it all last year, but with a full offseason under their belt and a roster overhaul, can they fix the simple stuff that makes great teams, well, great?
For the sake of Texas fans, they'd better hope so and pray that it happens fast. If there is a team that you can't afford to give extra chances, possessions, and points to, it's Alabama. Guess who comes to Austin in Week 2? Nick Saban's Crimson Tide. Doing the small things the right way would make a world of difference for Steve Sarkisian in Year 2, and if its not instilled by Media Days, it's already too late.