Trending Now
Top Three Questions For West Virginia Heading into Big 12 Media Days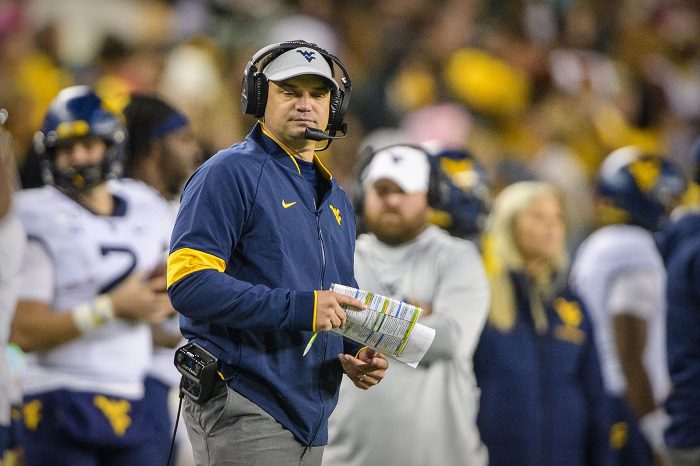 As spring turns to summer and we see the temperatures start to rise around the country, there is one thing on college football fans' minds: there are "X" days left until college football returns.
With Big 12 Media Days just right around the corner on July 13-14, preview season is in full swing and every fanbase across the nation has hope that their team will live up to the hype, or prove the talking heads wrong.
With that spirit in mind, here are three questions about Neal Brown and the West Virginia Mountaineers ahead of Big 12 Media Days.
CAN JT DANIELS ELEVATE THE MOUNTAINEER OFFENSE?
Luring the former Georgia starter to Morgantown was quite the coup, even if Daniels lost the starting job to Stetson Bennett last season. Look, WVU may have several options at quarterback, but Daniels is the only one with any appreciable experience, as he threw for more than 5,000 yards and 32 touchdowns with the Bulldogs. He SHOULD win the starting job, and if he does, can he change the course of the Mountaineer offense? WVU was next-to-last in the Big 12 in points per game, but fourth in passing yards per game with Jarret Doege at the helm. The key now, with new offensive coordinator Graham Harrell pulling the strings, is to get the most out of Daniels and get into the end zone.
CAN THE SECONDARY RESPOND?
The Mountaineers held opponents to field goals on 36.8 percent of their quality possessions a season ago. That's a fancy way of saying the defense came through in big situations. The defense was a Top 50 unit across the board in the major rankings (points, offense, defense and total yards). But the Mountaineers took a big hit in the secondary. Charles Woods is the only defensive back with appreciable experience from a year ago. There's a raft of unproven returnees and newcomers, including a North Dakota State transfer in Jasir Cox. How is this all going to come together? Perhaps head coach Neal Brown will give us an update? Speaking of Brown …
WHAT ABOUT NEAL BROWN'S JOB?
Brown enters his fourth season at WVU with a 17-18 record and coming of a bowl game last season. We're entering that point where the program is his now, and the recruiting hits — and misses — are on him. Bringing in Harrell to helm the offense can take things in a new direction. But the pressure is starting to build a bit on Brown. The Big 12 is taking in four new teams next season. Oklahoma and Texas are leaving in 2025. And who knows what will happen next? The Mountaineers don't want to be left behind, especially with their former head coach, Dana Holgorsen, about to enter the league at Houston. Expect some questions about whether the pressure is building.
Matthew Postins can be found on Twitter @PostinsPostcard