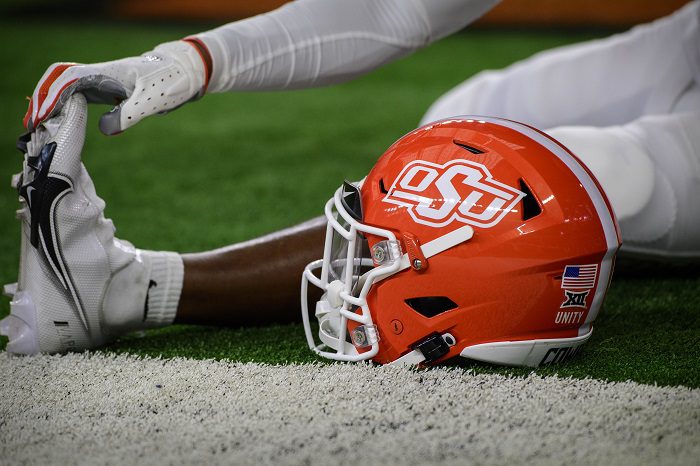 Oklahoma State will be glad one of their most dynamic players back on the field this fall, after missing last season with a torn ACL. This is not the first knee injury Trace Ford has gone through. Ford suffered a torn ACL on December 12th, 2020, before OSU's bowl game during his sophomore season. After getting healthy, the 6'3, 240 pound defensive end was dealt another setback, tearing his ACL again on September 2nd, 2021, going into his junior year. To come back from not one but two knee injuries is a tall mountain to climb but Ford is going to prove that it is not impossible.
Coming out of high school, Trace Ford was rated as a 4-star prospect by 247Sports. The Edmond Santa Fe native received offers from Arkansas, Baylor, Florida State, Oregon, and many others before, ultimately, choosing the Cowboys. Ford was a fan of Oklahoma State growing up and his family played a key role in why he decided OSU was the right school for him. When asked what brought him to Oklahoma State, Ford answered "I like their culture. They bring in dudes who didn't always get the respect they deserved, and then they get to OSU and ball out. I always respected that about OSU, and so I decided that was a perfect place for me as an underdog."
Ford's time in Stillwater hasn't always been sunshine and roses, but that hasn't kept him from quitting on himself. Ford was asked who his role models are, answering "I really look up to Brock Martin. Since I got there, since day one he's always been there for me. Whenever I'm down, whenever I'm hurt he's always been the first guy to be like 'How are you doing?' and he's always helping me on the field. He has always been someone I've respected very much since I've got here. I look up to him a lot. I also look up to my parents because I wouldn't be here without them." Last season was one that, throughout his career, Ford has not been used to. I asked Trace what last season was like being on the sidelines and he stated, "It was a rollercoaster for sure. Some days I would wake up and be like 'Alright, you're going to rehab. You're going to be great. You're just going to come back to be an even better story. This is going to be a great comeback.' and then other days I'm like 'Wow. What if I'm never the same. What if I don't ever heal properly?' It is definitely a mental rollercoaster. It definitely had a lot of ups and downs with it. I've been depressed for times and there have been times I've been really happy, but the whole process has been something I grew from. It gave me a lot of lessons."
It is never easy not being able to do something you love. For someone whose passion is football, injuries are always tough to go through. Ford talked about the toll his injuries had on him, stating "The first time around wasn't bad. I was like 'It's just a torn ACL, you know? You're going to come back. You're going to ball out.' I saw Klay Thompson, who happened right before me, come back and he's balling. So, I was honestly real optimistic the first time around. But then, the second time hit and I remember going into a deep hole. During the season, there were many home games that I couldn't even go to because I was so depressed and sad. I would cry. I would watch the game in the locker room or on TV just crying. It was super sad, but it was great seeing dudes like Collin Oliver get a chance and dudes ball out. I'm happy I had friends, family, and coaches in my corner helping me out because without them, it would have been hard."
The recovery process for a torn ACL is not the easiest of roads. "It's pretty much like starting over." Ford described, "You have no leg strength. My quads were small. My hamstrings were small. It's starting all over. You start working out. You are slowly building up your confidence to start running. Then, slowly building up that confidence to start cutting. It's a long recovery. Staying optimistic even on those days that you are sad, that was the thing I had to deal with. The days I didn't want to go to PT were the days I grew the most. Just stacking the blocks one day after another."
To get through the recovery, Ford leaned on his parents, "My mom and dad checked on me almost every day. It helped a lot because I was able to open up to them and talk to them." Ford also gave credit to someone he considers his mentor, Performance Course coach Christian Doty. "Everyday we would chat and talk about how everything is going. He kept pushing me on the days I wasn't feeling it. I would text him and he would hold me down telling me 'Hey man, you got more in the tank. Your career has just started.' So those three people have been really helpful for me."
On his road to recovery, Ford didn't shy away from the fact that he even considered retiring from football. "My mom had the conversation with me numerous times where she was like 'Maybe it's time to retire. Maybe it's time to hang up the cleats. Go play baseball. Go do this in business. It's ok.' There has been times I have sat in bed really considering it. Maybe she's right. I just didn't know what I would be outside of football. I feel like I don't have an identity outside of football. I know I'm smart and I can be successful but I don't know what brings out the passion in me like sports does. I don't want to give up this sport that I've been playing and balling out at."
Throughout all of the hard times that Trace Ford has been going through, he has learned some things about himself, stating "I learned that there are a lot of bigger things than football. The ACL thing, to me, might seem like the end of the world, but then I see other kids, other people with way harder disabilities, with way harder things in life and that's a big thing that kept me going. Just knowing 'Wow you're crying and you're still walking around. You have a leg still. You can still run.' It is things like that I had to keep in mind. There are people that are having a lot harder times than me. That kept me going a lot."
When I asked Trace where he found his peace off the field, he didn't hesitate to say "Fishing. A lot of fishing and a lot of reading. I've always been a big reader and I kind of lost it getting to OSU and always being busy. Tearing my ACL really brought that love back because I started reading a lot more. It brought back that peace, that quiet and calmness that really helped. That was a good thing for my therapy. Reading really helped me stay calm and collected. Fishing and reading were big things that helped me out."
Trace had some words for others going through injuries or rehab, "I just want to say it's ok. It's ok. You are gonna be depressed. No one should tell you that you can't be depressed. No one can tell you that you can't be sad because that's apart of life and it is healthy to be sad, to be not ok. Just know that if you keep pushing one day at a time, even when you don't want to, those days when you go in are the days that are going to help the most. Just keep pushing. It will be ok. You'll be fine and you'll be back out there before you know it." He also went on to talk about how he used to not believe in being down. "I thought it was crazy because, before I tore my ACL, I was that type of guy that would tell people when they were sad or depressed to just get over it. I never really believed in depression. I was like that's not real. Then it hit, and I grew a lot of compassion and empathy for others from this process. Just knowing, 'Wow, that's a sucky feeling to have.' Knowing that it was ok and getting over that hump helped a lot."
Oklahoma State will look a lot different on the defensive side of the ball this year, losing five of their top six leading tacklers. The Cowboys also lost their defensive coordinator Jim Knowles before the bowl game. I asked what Knowles meant to him and what is different with the OSU defense with their new coordinator Derek Mason, and Ford answered "I'm not going to lie it hurt. It was kind of like my father figure leaving. He was the one that recruited me, him and Joe Bob Clements. It hurt a lot. I was honestly really mad about how everything turned out, and sad, but then Mason came in. If Knowles is gone, I'm happy Mason is here. He's a great guy. He's very energetic. He is very different from Knowles. They are two different coordinators but I like them both a lot."
The Cowboys made history recently, making their strength and conditioning coach Rob Glass the highest paid strength coach in college football. I asked Trace Ford what he thought about their coach and he said, "Glass is the face of OSU on the inside. Everyone looks as Gundy as the face of OSU football, but Glass is the one running the operations with the players. The players are with Glass more than any other coach at OSU. We are with him everyday in the summer and offseason. Everyone has tremendous respect for Glass. Everyone is terrified of Glass. No one wants to mess up in front of Glass. Everyone wants to prove him right. Glass has a tremendous impact on the whole program including me."
Most football players have guys who play on Sundays that they try and model their game after or look up to. Trace Ford's guy is Von Miller, "My whole life I've been a big Von Miller fan. The way he bends, the way he rushes, it's majestic." Another player Trace is a fan of is Troy Polamalu. "I've always been a Troy Polamalu fan. How athletic he is, I've always wanted to be like that. Just to be able to be everywhere on the field. I looked up to him."
When asked what type of player he would describe himself as, Ford used the words "fast" and "finesser". The defensive end went on to say, "I like to beat the dudes around the edge. That's what I look forward to when I play. I like to see how fast I can get off the ball. I think that's my favorite thing about football is seeing if I can beat the lineman off the ball. Just playing with speed." Ford also talked about what he felt like was the strongest and weakest parts of his game, stating "I think the weakest part of my game is run block. I get discouraged sometimes just knowing these dudes are big as hell. I just have to tell myself 'You are just as strong. Just hold your own.' I think the best part of my game is definitely pass rushing. I think I have a knack for it. I think I am just getting started. I am looking forward to just getting better."
Every year, players go into the season with one goal in mind as a team, and that is to be crowned national champions. I asked Trace if he had any personal goals, and he answered "I want 10 sacks. I have high goals for myself. I believe I'm a First-Team All-American in college football, not just the Big 12. That's my goal this year is to come back and ball out again. I wanna get back to myself." Ford's goals aren't as outlandish as some may think, as he was named Honorable Mention All-Big 12 by the coaches in both 2019 and 2020. Ford wants to remind OSU fans that missed him last season, "I'm the same guy, if not better. I'll be back and the pass rush squad will be the best pass rush in the country, in my opinion. I want to let fans know that the same Trace Ford is back but better. You got dudes with me on the line that are even better, so it will be a fun season. I promise them that."
The landscape of college football is vastly changing, so I had to ask him what he thought about USC and UCLA going to the Big 10, and what he thinks OSU and the Big 12 should do. Ford laughed about it and said, "Well, I think it's silly altogether with the Pac 12. I saw something that USC going to Maryland, that drive is 28 hours. Poor bus drivers. Poor equipment bus drivers have to drive that bus. I think OSU and the Big 12 should stay. Personally, I think the Big 12 should stay. We just brought in some great teams. These are teams that are in the top 25 every year. These are good teams. The Big 12 is fine. I don't think any conference is as big as people think they are. I don't have much knowledge on it all but I think it's all pretty crazy. It's more about the money now."
Oklahoma State is lucky to have a guy like Trace Ford in the locker room. He is a genuine dude that is driven to accomplish big things and any team would be grateful to have him apart of their squad.