Big 12 News
TV Rights Advisors Suggest Big 12 Avoid Oregon, Washington Over Geography: Report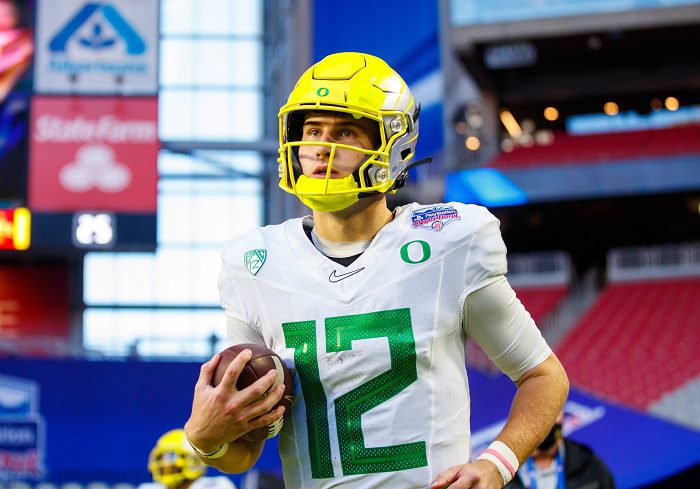 The conference realignment chatter continues in earnest after the bombshell news last week that USC and UCLA were bolting the Pac-12 for the Big Ten.
For once, the Big 12 Conference finds itself in an enviable position in the middle of the realignment conversation.
The Pac-12 is on the brink of collapse and the Big 12 might be able to reap those rewards. It's well reported that the conference is eying Arizona, Arizona State, Colorado and Utah.
But the question remains: What about Oregon and Washington?
They are the flagship programs when it comes to college football in the conference. They've played for National Championships and are the only two schools to make a College Football Playoff from the Pac-12.
It's long been assumed that those two are waiting out for a Big Ten invite or may be trying to cobble together a Pac-12 they can dominate going forward.
However, one thing that hasn't been considered: What if those two programs aren't as valuable as we perceive them to be based on solely their college football success?
That maybe he case after this report from CBS Sports' Dennis Dodd suggested Oregon and Washington may not have the juice they, and many college football fans, assume they do.
Dodd reported: "The Big 12 has been told by TV rights advisors that the two most important considerations for expansion are brand and geography. Geography pushed Oregon and Washington to the margins. (That doesn't mean the likes of Arizona and Arizona are necessarily "brands.")"
There's no doubt that any trip to Eugene, Oregon and Seattle, Washington are lengthy treks from Orlando, Morgantown, Cincinnati and frankly most of the Big 12 schools. And while it could be justifiable for football, how difficult does it get for a Monday night basketball game, never mind a cross country meet or volleyball match?
Dodd went on to report: "If the Big 12 expands, it wouldn't necessarily be for money but rather survival and relevancy."
There are two ways to gain power in college sports, it can be a quality or a quantity play. No one is going to argue the quality of the SEC and Big Ten will be superior to the rest of college football, and likely most of college athletics, however the Big 12 looking at a quantity play is a smart one and the one it must make moving forward.
And while Oregon and Washington may provide some hurdles if added, when bringing them in with the other four Pac-12 schools mentioned, three six-team pods actually make sense and can be a great building block for the league going forward.