Big 12 News
Texas Tech Announces $200 Million Investment into Football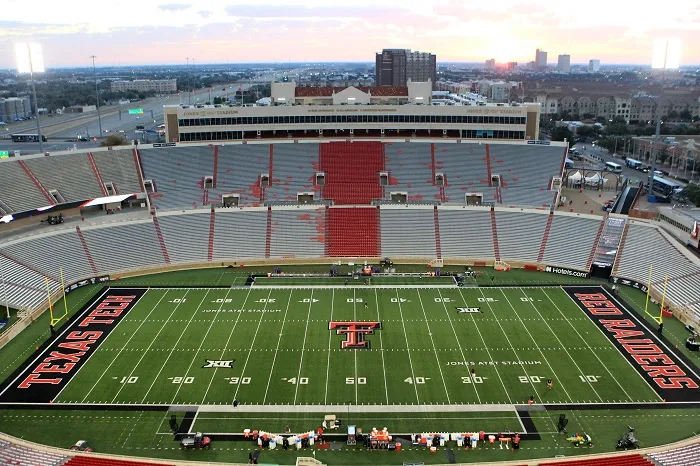 Texas Tech announced Monday its largest investment into the Red Raider football program to date as the athletics department unveiled plans for an approximate $200 million facilities project to construct a new south end zone building to Jones AT&T Stadium, which will connect to the new Dustin R. Womble Football Center.
The impact of this project will completely revitalize the south end zone of Jones AT&T Stadium, not only from a student-athlete amenities and development standpoint but by preserving one of Texas Tech's most historic landmarks, the Double T scoreboard. Under the current plans, Texas Tech will debut a new Double T scoreboard atop a new four-story building that will enclose Jones AT&T Stadium.
As the press release notes, the project will be largely funded through private fundraising and annual athletics department revenue streams, primarily from the sale of new premium inventory. Pending approval in early August, the project is slated for groundbreaking immediately following the 2022 football season in anticipation of opening prior to the 2024 campaign.
Here's a video of what's to come in Lubbock.
"This is an historic day as we announce our intentions to construct what will be the premier football facility in the Big 12 Conference and nationally," Director of Athletics Kirby Hocutt said. "This facility, when completed, will not take a backseat to any other school in the country. We have received tremendous interest from many of our supporters regarding this project and anticipate that continuing as we get closer to officially breaking ground.
"Our intent is to be the top athletics department in the country. As we look into the long-term future of college athletics, this project will set the stage for what we anticipate as decades of success on the gridiron for our Red Raiders. This will take all of us. There's not a more passionate fan base in the country than Red Raider Nation, so we encourage all our alumni and supporters to contribute to this project and, as always, be a proud member of the Red Raider Club."
The newly-constructed facilities will include over 300,000 combined square feet and blend world-class modern design and technology elements with Spanish architecture.