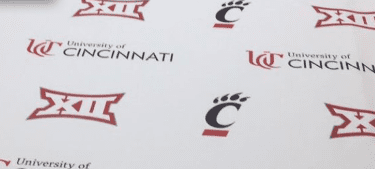 Cincinnati men's basketball coach Wes Miller says the move to the Big 12 is already having an impact on the team's recruiting.
Miller made the comments on the College Hoops Today podcast hosted by Jon Rothstein.
Cincinnati is joining BYU, Houston and UCF in the Big 12 Conference on July 1, 2023. Oklahoma and Texas will transition out of the Big 12 and to the SEC no later than 2025.
The Bearcats are wrapping up their last season in the American Athletic Conference and have one commitment for the 2023 Class. But, it's a big one. Rayvon Griffith, a 6-foot-7 shooting guard out of Compass Prep in Chandler, Ariz., is the nation's No. 55 recruit according to 247Sports.com.
Cincinnati didn't have a Top 100 recruit last season.
"It's impacted recruiting," Miller said. "Kids want to play in the best league in the country. If you look at the last four or five years, the Big 12 has been the best league. They've won the last two national championships."
Kansas won the title in April, with Baylor winning the 2021 crown last April.
Miller also believes the Bearcats are a good fit for the Big 12.
"We have the same approach day to day — the expectations of this program exceed any league," Miller said. "It has created a different vibe and energy. You can feel it in the community and on the field with our football team making the College Football Playoff last year. They announced (the move) during their season and it's led to some real positive things for Cincinnati athletics, and the Big 12 fits that mold."
Miller is entering his second season at Cincinnati after going 18-15 in 2021-22, as the Bearcats finished eighth in the American Athletic Conference with a 7-11 record. The Bearcats have a long tradition of success in college basketball. West Virginia head coach Bob Huggins led the program to two Final Four appearances.
"This is one of the elite programs in college basketball, given its success the last 60 years," Miller said. "I grew up watching Coach Huggins' teams."
The Division I College Basketball Player of the Year award is named for former Bearcats legend Oscar Robertson.
Before arriving at Cincinnati, Miller led UNC-Greensboro to 185 wins in 10 seasons, during which the Spartans went to the NCAA Tournament twice as the Southern Conference champions.
You can find Matthew Postins on Twitter @PostinsPostcard.