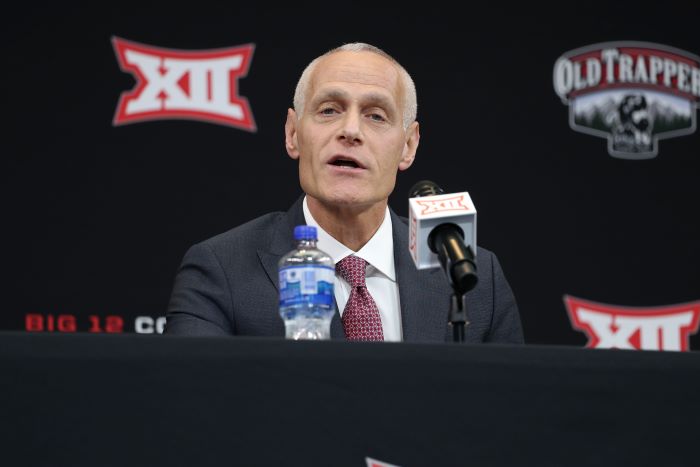 ARLINGTON, Texas — Two days after Brett Yormark accepted the job as Big 12 Commissioner, USC and UCLA bolted for the Big Ten.
Later that day, Baylor president and the vice-chair of the committee that helped hire Yormark, Linda Livingstone, talked with Yormark by phone and tried to lighten the mood a bit.
"Well, welcome to college athletics," Livingstone said. "And you thought working for Jay-Z was really exciting?"
Yormark's tenure as Big 12 commissioner hadn't even officially started and he was already participating in calls related to conference realignment.
The Big 12 is reportedly discussing expansion with multiple Pac-12 schools, including Arizona, Arizona State, Colorado and Utah. The Big 12 has also reportedly had discussions with SMU. Yormark wouldn't say on Wednesday if the league was actively talking with any teams in any other conferences. But he did declare the Big 12 is "open for business."
"I think it's fair to say I've received a lot of phone calls, a lot of interest," Yormark said. "People understand the direction of the Big 12, and we're exploring those levels of interest. Nothing is imminent, but we're working hard to make sure that we position the Big 12 in the best possible way on a go-forward basis."
But this is where Yormark said he's always wanted to be — college athletics.
Yormark said he has a 'progression ladder.' The former NASCAR executive said that ladder started with a position with the Brooklyn Nets, where he eventually became CEO of the Nets and Barclays Center.
He said the final destination was always college athletics, though at one time he thought it would be as an athletic director.
"I always had a vision to be in college sports," Yormark said on Wednesday in his first Big 12 press conference at football media days. "Candidly, I thought it might have been as an AD. I wasn't sure. But I was enamored with the space. It was fueled during my time at Barclays Center, so when this opportunity presented itself, I said, 'Let's give it a shot.'"
But, coming to the Big 12, he's bullish on the league's future and knows that enhancing the league's overall brand is a high priority.
"My career path has always found me in the role of an underdog," Yormark said.
Yormark will officially start working for the Big 12 on Aug. 1 and intends to work out of the Big 12 office, even though he hasn't moved to the Dallas-Fort Worth area.
For the first 60 to 90 days, Yormark intends to visit all 14 Big 12 schools — current and future — on something he called a "listening tour." After that, he hopes to provide recommendations to the league's members on a path forward.
After that?
"We will move as fast as we need to," Yormark said.
Yormark will have plenty on his plate. The Big 12 could expand beyond its current membership. He has to manage the entrances of the league's four new members — BYU, Cincinnati, Houston and UCF — next July. He also has to manage the exits of Oklahoma and Texas.
He has to prepare for the league's media rights negotiations, something he considers his "highest priority." He'll also have to work to position the league when it comes to the College Football Playoff, along with Name, Image and Likeness (NIL) and the transfer portal.
He must do all of this while learning on the job, with outgoing commissioner Bob Bowlsby as a consultant and sounding board.
"What excites me most about joining the Big 12 is the transformative moment in front of all of us today," Yormark said. "We have an opportunity to grow and build the Big 12 brand and business, be aspirational, define our point of difference, all while never losing our commitment to always compete and develop our student-athletes at the highest levels."
You can find Matthew Postins on Twitter @PostinsPostcard.