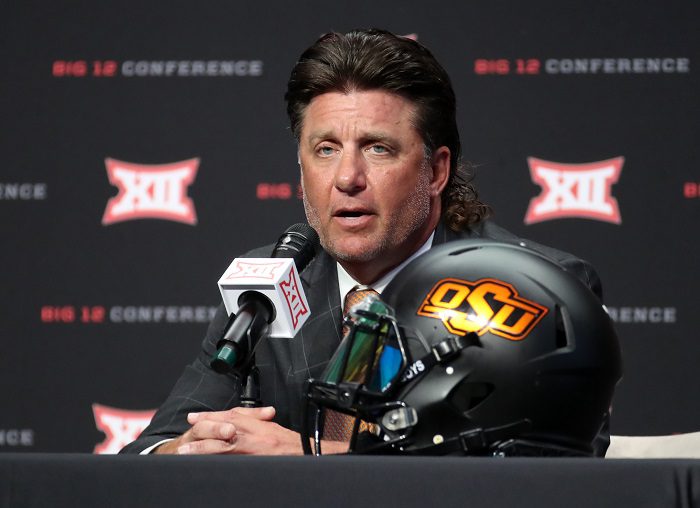 Oklahoma State went 12-2 and came up less than a foot short of being crowned Big 12 Champions, losing to Baylor, 21-16. That loss to Baylor still stings Oklahoma State head coach Mike Gundy. He said, "Still to this day sometimes I wake up in the middle of the night and games such as the championship game come across my mind even more than the games we won."
While the loss hurt, the Cowboys ended up in the Fiesta Bowl and ended their season on a high note as they defeated Notre Dame, 37-35.
This year will look a little different on both sides of the ball, but the offense returns seven starters, including Preseason All-Big 12 quarterback Spencer Sanders.
"Spencer has been fantastic for us." Mike Gundy said in his press conference. "He has now become a magician of our offense. He knows it and he can run it fast and understands it. Towards the end of last year, he started to make quality decisions in a short amount of time which is really important. He's tough and he's humble."
Along with Spencer, Oklahoma State's wide receiving corps should be a position to lean on, as Brennan Presley and Braydon Johnson bring back valuable experience.
"We have been fortunate at Oklahoma State for years to find skill players who can make a play with the ball in their hands." Gundy said. "Brennan Presley has been fantastic for us and has made big plays for us. We have a number of wide receivers and running backs that should be on the field this year making plays."
The running back room will be the biggest question in 2022, as junior Dominic Richardson is the most experienced of the bunch. But he has logged just 123 carries in his college career.
Defensively, Oklahoma State lost experience and depth. Five starters return, with All-Big 12 defensive ends Tyler Lacy and Brock Martin anchoring things up front. Jason Taylor II returns for his redshirt senior year in the defensive backfield, but the secondary and linebacker corps have openings. New defensive coordinator Derek Mason, the former head coach at Vanderbilt, will need to find contributors in the back seven if he hopes to recapture the magic that Jim Knowles's unit did a season ago. Knowles is now at Ohio State.
As far as the transition from Jim Knowles to Derek Mason goes? "It's been very smooth." Gundy said. "The players have rallied around Derek and the transition has been smooth. I couldn't be happier."
Oklahoma State opens up the 2022 season with Central Michigan on Sept. 1 and then hosts Arizona State on Sept. 10.