Big 12 News
Kansas Head Coach Lance Leipold: 'We're Not in the Business of Moral Victories'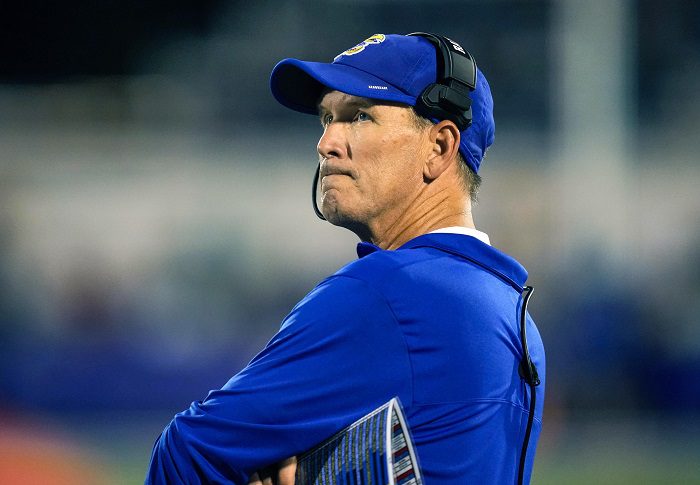 After missing Big 12 Media Days last summer due to inclement weather, Lance Leipold made his debut in Jerry's World on Wednesday. The Jayhawks head coach is tasked with getting one of the worst Power Five programs in the country to improve in Year 2, but how do you define success at a place like KU?
"We understand and we emphasize, as well, we're not in the moral victory business," Leipold said. "We understand that completely. But we're always looking at, whether it be individual improvement in certain things, how we've gone about our daily business and really how we've connected dots with our players about becoming better holistically, whether it be weight room or academically and better leadership, better teammates, that these things are going to stack upon themselves and help us on game day."
Leipold expanded on how his team looks to improve in his second year, with an emphasis on rebuilding the roster through the transfer portal.
"As we know, this program had put itself in some tough positions scholarship-wise," Leipold said. "So that will help, whether it's going to alleviate itself right away this year, but a year from now I'll be very confident that we'll be where we need to be in that scholarship count. And I think across the board for programs like us, it can go either way, as we know, though, with the portal.
"You've got to do a great job within your roster. I'm very proud of the fact that we haven't lost anyone in our two deep from last year that didn't leave by graduation. But at the same time, we've been able to add to that to create. And the thing we've tried to emphasize within the program also is for us to get better we have to be better within our own locker room first. We have to be Kansas as we go about it. We have to be better than we were the day before. And one of those things that you have to do to get there is you have to embrace competition."
Kansas is coming off a 2021 in which it went 2-10 overall and 1-8 in Big 12 action. The Jayhawks broke in their new head coach, Lance Leipold, who was hired in May of last year. The Jayhawks' biggest accomplishment last season was beating Texas on the road in November, a 57-56 overtime victory that ended Kansas' long road losing streak.
The transition continues under Leipold, who has a full spring and summer of work with this edition of the Jayhawks, and there's a sense of positive momentum for the first time in a while. Kansas actually boasts 16 returning starters, including key players like quarterbacks Jason Bean and Jalon Daniels, running back Devin Neal and safety Kenny Logan Jr., who could have gone pro after last season.
Still, Kansas has to replace some key players, including top pass rusher Kyron Johnson, consistent wide receiver Kwamie Lassiter IV and offensive guard Malik Clark, the last of which ended his Jayhawks career with 40 career games.
The Jayhawks open the season on Sept. 2 at home against Tennessee Tech, followed by a road trip to West Virginia on Sept. 10 to open Big 12 action.