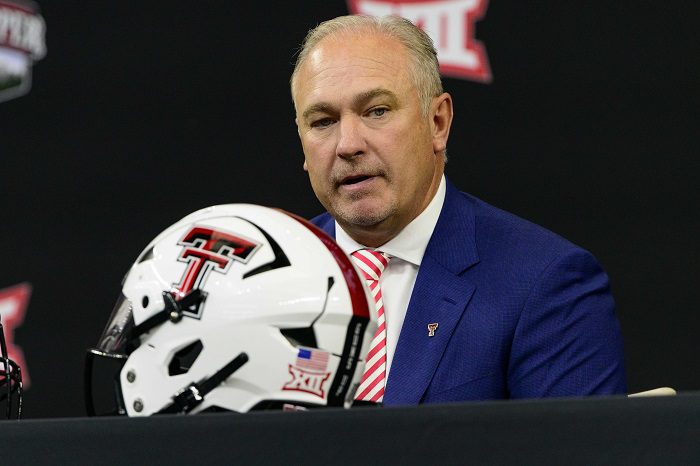 Ever since Mike Leach left Texas Tech, they have been searching for success. Since 2010, Texas Tech has had four different head coaches. Whether it was Tommy Tuberville, Kliff Kingsbury or Matt Wells, none of them found sustainable success.
The Red Raiders have not won nine games in a season since 2009 and have just made two bowl games in the last six seasons. In no point and time over the last ten years has Texas Tech been a threat to win the conference. In fact, they haven't finished higher than fifth in the Big 12 Conference over the last 12 seasons.
Now it's Joey McGuire's turn to try and turn the program around. McGuire, once a longtime high school coach made the jump to college football in 2017 where he was hired by Matt Rhule at Baylor. He spent two seasons as the tight ends coach in Waco and then became the assistant head coach and defensive ends coach in 2019. Even when Matt Rhule left for the NFL, current head coach Dave Aranda kept McGuire on staff.
Joey has been known to be a great recruiter over the years. His time spent as a Texas high school football coach paid dividends as he had established relationships with high school coaches all over the state of Texas.
While he has had a ton of success as a coach, the energy he has is as impressive as his coaching resume. "The energy he brings inside the building. It gives us confidence and we have a swag to us with coach McGuire." said Texas Tech safety Dadrion Taylor-Demerson.
As for the difference from this year to last year? "The comradery from our team. Last year it felt like it was the offense and defense and now I feel like every workout we do is a team bonding exercise."
Despite the short amount of time he has been in Lubbock, it seems like Joey has already made an enormous impact on the players. "The relationships he's built and the trust he has built here has been big," said linebacker Tyree Wilson. But what sets him apart from other coach? "His energy levels are always a ten on and off the field. No coach in college football can match his energy."
Win or lose, Joey McGuire is going to bring the energy that the Texas Tech program desperately needs. The school has made a serious commitment to football with their 200-million-dollar investment with their football facilities. Now it's time for Joey McGuire to turn that energy into wins on the field.