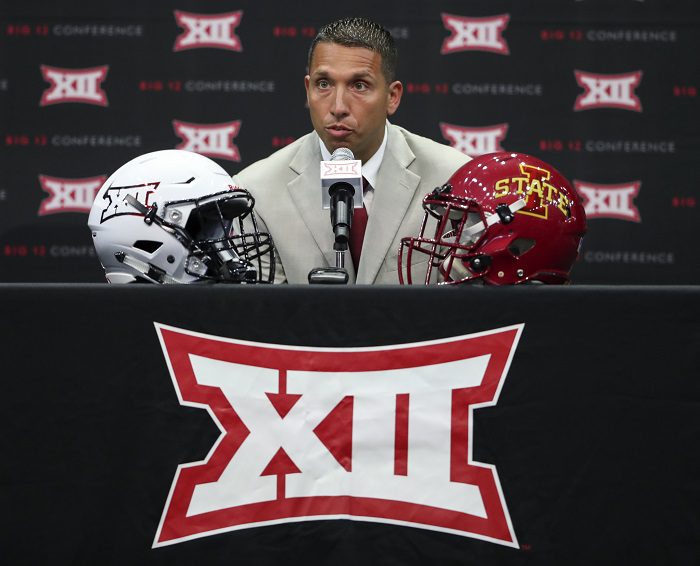 Iowa State is coming off a 2021 in which it went 7-6 overall and 5-4 in Big 12 action. The Cyclones played in the Cheez-it Bowl against Clemson, losing 20-13. Last season, the Cyclones were picked to play in the Big 12 title game and unfortunately for them they didn't make it back to Arlington.
However, head coach Matt Campbell once again isn't worried about what is said during the preseason. "If we were to ever listen to what people said about Iowa State and the preseason hype, we would have never gotten the program off the ground." Campbell said. For us, it's always been about us and nobody else. I don't we need to be motivated what did or didn't happen a year ago and we are motivated on how to find success and push our program and push ourselves forward."
This will be a season of transition for head coach Matt Campbell, who is losing one of the most important players of his career at Iowa State. Quarterback Brock Purdy was one of the league's best passers and he ended up being drafted in the NFL as 'Mr. Irrelevant,' or the last pick in the draft. Running back Breece Hall and tight end Charlie Kolar were also drafted by the NFL, with Hall potentially in line to start for the New York Jets as a rookie.
The question is how will Iowa State replace guys who have been the face of the program for the last few years? For Matt Campbell, it's not unfamiliar territory "The positive for us is that we have been here before." Campbell said. A few years ago, we lost Allen Lazard, Hakeem Butler, and David Montgomery all at the same time and they were our offense. The big thing for us is that we have a very veteran offensive coming back along with Xavier Hutchinson and Jaylin Noel who are very talented. We have building blocks to work with which I think that is a good thing when you are ushering a new era of offensive football. It doesn't put the strain on just one person, and you have some veterans to anchor the offense."
The Cyclones return only eight starters, but one of them is pass rusher Will McDonald IV, one of the best in the Big 12 and in the country. He had 11 1/2 sacks last season. The Cyclones also have wide receiver Xavier Hutchinson returning after catching 83 passes for 987 yards and five touchdowns last year.
The Cyclones open the season on Sept. 3 at home against Southeast Missouri, followed by a road trip to traditional rival Iowa on Sept. 10. The Cyclones start Big 12 action on Sept. 24 at home against defending Big 12 champion Baylor.