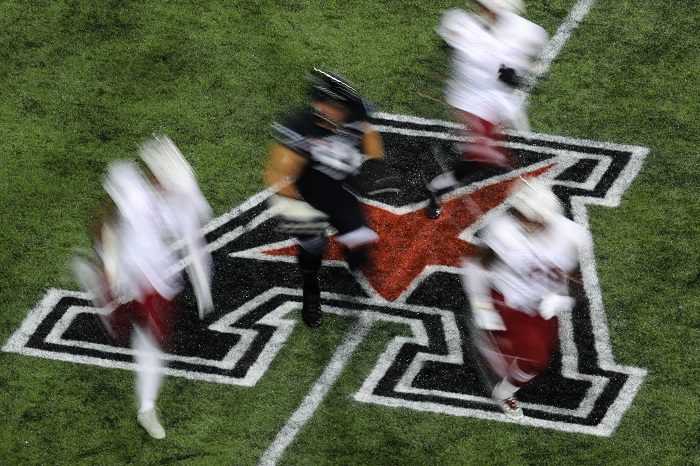 Some of the best American football players have been natural talents since they could walk. They have been highly respected throughout their high school career and ultimately received a scholarship for university. However, some of the best NFL players weren't that lucky and were college walk-ons. Let's look at the players who developed from walk-ons into world-class NFL players.
Carl Nassib 
When Nassib arrived at Penn State he had to start his career as a walk-on. He was too skinny to play as a defensive end for an NCAA team. He did not play a single game until his sophomore year and was not a starter until 2015 when he weighed in at a whopping 277 pounds. He needed just one season to prove himself as he became the player with the most sacks in the entire nation.
In 2021, he was the first NFL player to publicly come out as gay. Since then, he has done a lot to help make it easier for LGBTQ athletes to strive. Nassib is therefore a player with compassion but also someone who knows how to endure and take risks. After transferring from the Buccaneers in 2019, he now plays at Las Vegas Raiders – the gambling capital of the world. And as a college walk-on, perhaps Nassib was always destined for such a location. After all, his state-of-birth is a gambling spot too. To see for yourself, you can explore Pennsylvania's online casino universe, a place brimming with games that demand just the right dose of 'Nassib endurance' and grit.
J.J. Watt 
Even though the defensive end has reached the age of 32 he is still one of the best defensive ends in the NFL. Before going to the NFL and being named defensive player of the year three times this guy was a walk-on. After graduating from high school Watt had limited opportunities and ultimately decided to enroll at Central Michigan University on a scholarship.
After a year he decided to transfer to his home state and the University of Wisconsin-Madison as a walk-on. It proved to be a good choice as he was ultimately picked as their starting defensive end and would go on to get drafted 11th overall in the 2011 draft class.  
Antonio Brown 
During high school the seven-time Pro Bowl player played four positions running back, quarterback, wide receiver, and kickoff returner. The Floridian wanted to stay in his home state but was not offered a scholarship at Florida State due to poor academic grades. Instead, he went to Michigan, where he knew there was a wide receiver coach who rated him highly.
As a walk-on he received a scholarship within weeks and went on to be one of the best wide receivers in the NFL, being named for the all-decade team of the 2010s. In 2020 he won a Super Bowl ring with the Buccaneers. Brown had his contract terminated this January because he stripped down and ran away from the field during their week 17 win. Still the Brown-family features in the NFL, with his cousin Marquise Brown being drafted in 2019 despite missing the combine.
Clay Matthews III  
Even though Matthews comes from a Football family, where his father Clay Matthews Jr. and Uncle Bruce Matthews both played 19 seasons in the NFL, he was not a high school standout. Due to his small stature, he did not get many offers and decided to become a college walk-on at USC.
It took him two years to develop into a first-team player, but from there, there was no looking back. He was drafted in the first round by the Green Bay Packers and won the Super Bowl XLV with the team in his second NFL season. It was the team's fourth and so far, last championship.