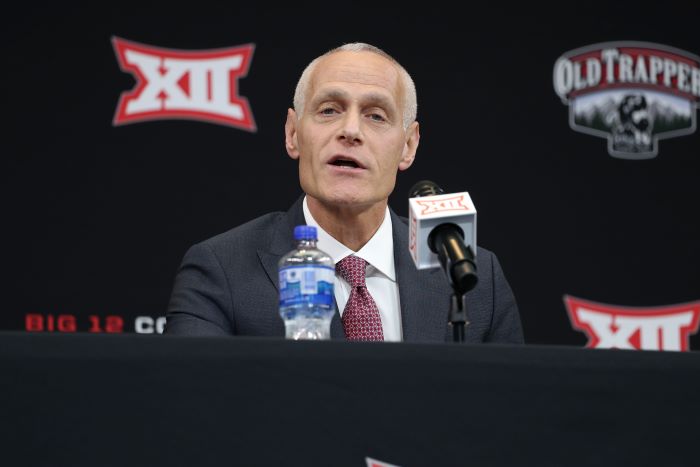 The 2022 Big 12 Media Days have now come and gone, leaving college football fans with some things to mull over while fall camp approaches.
A few things stood out at Media Days above the rest of the storylines as we were introduced to a lot of new faces both in coaches and players and even the new conference commissioner.
There is a lot to digest here, so let's just dive right in.
Brett Yormark Makes it Clear That the Big 12 Will Be a Player in Realignment
"There is no doubt the Big 12 is open for business. We will leave no stone unturned to grow the conference."
That is a quote from Brett Yormark's opening statement at his first press conference as Big 12 Commissioner on Wednesday, and what a statement it is. In several interviews since then, Yormark has made it clear that the Big 12 will look to be players in conference realignment, but the fit needs to be right.
"We are going to explore any and all opportunities to create value to build the brand and the business of the Big 12," Yormark told ESPN at Media Days. "Obviously what's at the forefront right now is realignment, and that is truly something that I'm focused on and I hope to be able to do something that does drive value and builds our brand. We will see what happens… Sometimes the best deals are the ones that don't get done, so we'll see, but anything we do do has to be additive and not dilutive. We're excited about the different scenarios that we're vetting out currently."
The rumor mills have gone a bit quiet over the last few days, but do understand that bringing on new universities is not something that can be done in a matter of days. These things take time, and without coming out and saying it, Yormark appears to be pushing hard to make additions to the conference in a time where it could be paramount for survival.
By the Looks of it, the Future of the Bedlam Series is Bleak
Oklahoma and Oklahoma State have played 116 times over the course of 118 years, but the rivalry is in jeopardy of dying with the Sooners making the jump to the SEC sometime between now and 2025. Of course, the Cowboys felt left in the dark on the move and as their in-state rival and Texas are paired for the leap.
The reality is, Oklahoma State just doesn't have the national draw that Oklahoma and Texas possess, making it difficult to make the argument that OSU should've been involved. In a world where television revenue drives college athletics, it was a no-brainer for Oklahoma to head to the SEC, but that doesn't mean the Pokes aren't bitter about it.
"The future of Bedlam is it has a year or two left. That's the future of Bedlam, based on somebody else's decision."
That is the answer that Mike Gundy provided when asked about the future of the Bedlam Series.
That "somebody else" is clearly a shot at the Sooners, implying their decision to leave for the SEC is the reason why Bedlam is in jeopardy.
Oklahoma head coach Brent Venables commented on the rivalry, but maintained a level of focus for this season.
"I'm not gonna talk about the move (to the SEC), but I am focused on winning the state," Venables said. "It's an incredibly important game with a long history of tradition. Over 100 years of playing Bedlam and regardless of how the scores have been, or the success of one place or the other, it's important from a foundational standpoint."
"You've gotta have some hate in your heart for your rival. I've got great respect for Mike (Gundy) and the success, their program, their players, and obviously they've done a lot of things really well. For us, when the time comes, (Bedlam) is a tremendous focus. In the state, it's important to so many people and it brings a lot of joy, and heartache, to a lot of people. So, it'll be a great focus for us and an exciting last week of the season when we meet up again."
It's not set in stone, but we might be seeing that last of the rivalry, at least in terms of it being played every year, and that is a big loss for college football.
There is a Quiet Confidence Coming out of Norman
On Thursday, the Oklahoma Sooners and their new head coach seemed to be the focus, and rightly so. A first-time head coach coming back to the place that cut his teeth as a defensive coordinator, and that place being as prestigious as Oklahoma, is a story that writes itself. However, in the time that the Sooners were in front of the camera, there was a humble confidence that seems to permeate the space around them.
The national perception of Oklahoma coming into 2022 was that the Sooners were going to take a step back under Venables in his first year, given that 40% of their roster will put on an Oklahoma uniform for the first time this fall. However, after leaving Dallas last night, I wasn't so sure that the Sooners would fall off.
OU's 2022 depth chart was released this week, and it's clear that the kind of guys that Oklahoma will put out there defensively have changed dramatically. Oklahoma lacked a single contributor on the defensive line in 2021 that was near 300 pounds. DL Jalen Redmond was listed at 279 pounds last year, but is now up to 298 pounds. DL Jeffery Johnson comes in at 313 and will certainly be a key piece up front. DL Jordan Kelly is up eight pounds to 292. Isaiah Coe, up 12 pounds to 304. DE Ethan Downs is up nearly 10 pounds this year at 263, and looked much more physically mature in person, and he feels that things have changed in a big way from last season.
"I have huge expectations," Down said on Thursday of the 2022 season. "I think we have a really talented team. I think we have a lot of energy and excitement right now and I think we're about to have a great fall camp and roll into the season. Our coaches are very experienced and very talented. There's a lot of chemistry between our coaches. They're highly adaptable as well. Our players are really athletic, very strong, very fast and with that combination of wisdom and ability, I think that we're going to be outstanding. The only thing that can hold us back is ourselves. So, from now and on I think we're gonna be dangerous."
Coming into the week, I was sure that Baylor would sit atop my Big 12 Preseason Poll, but now I'm not so sure it isn't the Sooners.