Big 12 News
What We Learned About Oklahoma State at Big 12 Media Days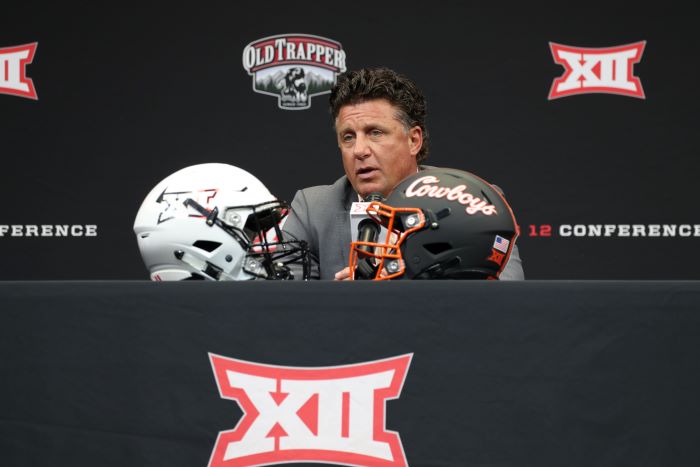 Oklahoma State wrapped up its Big 12 media days appearance Wednesday afternoon as the first day is in the books for the conference's annual media outing.
Mike Gundy brought himself and four players to Arlington to speak to the media ahead of the 2022-2023 season. Those players were quarterback Spencer Sanders, receiver Brennan Presley, defensive end Brock Martin and defensive tackle Tyler Lacy, all of whom gave fun and interesting reports on the season ahead.
Here's what we learned about the Cowboys as day one wraps up in Arlington.
Gundy Would Not Allow OU and Texas in Big 12 Meetings
The Cowboys' coach has not been shy about being vocal in regards to Oklahoma and Texas jumping ship from the Big 12 to the SEC. When asked about it Wednesday, Mike Gundy shared his thoughts on the matter and jokingly offered advice to incoming commissioner Brett Yormark.
"The new commissioner, I mean, honestly if I was him, I wouldn't let OU and Texas in any meetings," Gundy said. "I say that jokingly, but I mean, if you're strategically in a business meeting, if it's two cell phone companies, I don't want somebody from their company in my company."
This caused a stir from fans of both sides, as Oklahoma fans on social media, ironically, told Gundy to "get over it" and that he "sounds like a scorned ex," while others sat back and enjoyed the drama.
Gundy was also asked about the recent hot topic of conference realignment. He remarked on Oklahoma state's position in the landscape of realignment
"I don't think Oklahoma State has changed any with the alignment that started a year ago. We have a strong brand. We have a successful winning tradition and a large number of people across the country that want to watch Oklahoma State football."
Aranda Admits Attempted Timeout in Championship Game
During Baylor head coach Dave Aranda's time on the podium, he had some interesting things to say about the Big 12 Championship regarding his team's victory over Oklahoma State.
It was regarding the bizarre break in action during the Bears' goal line stand that won them the game, when a whistle was blown just after the third down stop and the Bears' defense started to walk to the sideline for an apparent timeout. Only, Baylor was out of timeouts, causing confusion on the field from players and officials as both teams scrambled back to the line of scrimmage.
"I wanna say we called a timeout and didn't have a timeout. I don't know if I should be saying that," Aranda told the media Wednesday morning.
From there, the Bears stopped OSU on fourth down and won the Big 12 title, 21-16. From what I can find in the NCAA Rulebook there is no penalty for calling excessive timeouts in football like there is in basketball, so realistically nothing would have happened to benefit OSU aside from alleviating the confusion.
Still, it makes you wonder if that play would have gone differently had the Cowboy offense gotten those couple of seconds back.
Receiver Changes
Quarterback Spencer Sanders gave some insight into the wide receiver room while being interviewed by the ESPN crew. When asked who the Cowboys have waiting in the rafters in the pass catching department, Sanders disclosed a couple different guys at their respective positions.
The senior quarterback said sophomore Jaden Bray will be at the 'X' position, senior Braydon Johnson will play the 'Z' and the slots will be filled by junior Brennan Presley and sophomore John Paul Richardson.
The two slot roles come as no surprise, as both Presley and Richardson excelled at the position a year ago. What did surprise me is Jaden Bray remaining at his 'X' spot and Braydon Johnson being upgraded to the 'Z.' I predicted the opposite, as Bray showed he could fill Tay Martin's role as a true freshman last season and Johnson plays more like an 'X' receiver.
Lots of questions about Presley brothers
It seems that many are interested in the prospect of brothers Brennan and Braylin Presley playing side by side this upcoming season.
The older Brennan admitted he has answered a multitude of questions regarding his brother, who was a late enrollee in the Pokes 2022 recruiting class.
"Honestly he should be here too with how many questions I've gotten about it," Brennan told the ESPN crew with his trademark smile.
We also learned from Mike Gundy that the brothers could be tag-teaming kick returns some time in the near future.
Braylin committed to Oklahoma State in December after a stellar career at Bixby High School in Bixby, Oklahoma. As a senior, he led Bixby to a 13-0 record and a 6A-II state championship while earning the 2021 Oklahoma Gatorade Player of the Year honor.