Big 12 News
Brent Venables Sees 'Parallels' Between Dillon Gabriel, Josh Heupel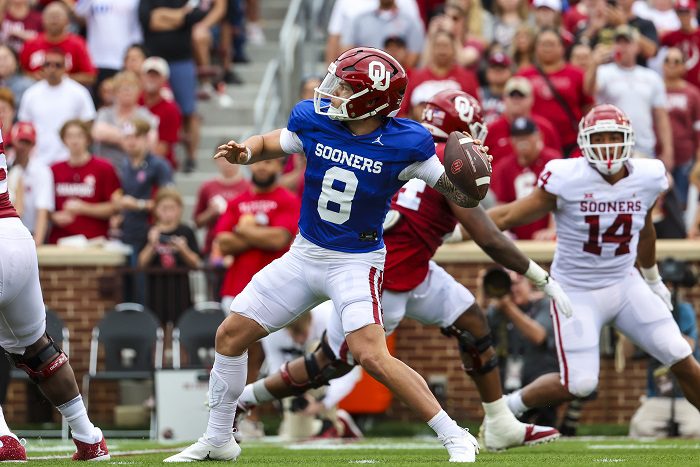 Oklahoma will have a new look on both the sidelines and the field this season. On the field, this is something the Sooners have become accustomed to, as they have had much success with quarterbacks transferring in. Dillon Gabriel will be looking to add his name to the list, after announcing he would be transferring from UCF to attend Oklahoma University.
During the 2000 season, which resulted in a national championship for the Sooners, Brent Venables was the defensive coordinator under head coach Bob Stoops. Venables watched the success that former quarterback Josh Heupel was able to have, after transferring to Oklahoma. Both Gabriel and Heupel are left-handed, but Venables sees similarities outside of that.
"There's certainly parallels in many ways," Venables stated at Big 12 Media Days. "Bringing in an experienced lefty in our first year. But for me, it just goes back to the people. You got to be good enough. Dillon Gabriel is a winner. You can't say it any better than that. He's thrown for over 8,000 yards, completed 60% of his pass, incredible touchdown to interception ratio. Just a great leader. He's our quarterback."
Hearing this has to make Sooner' fans happy, who are ready to get back to their winning ways and compete for another national championship. Venables went on to say, "Certainly, anything can happen as we move forward in fall camp, it's always about daily competition. But I feel great. I can lay my head down at night knowing not just what he has done of the football field but the quality of the person he is. He's about all the right stuff. He's dependable, he's reliable, he's accountable, he's humble. He's one of the hardest workers. Shows up early, one of the last to leave. Always working to improve. He just leads by example and guys follow him. He's a galvanizer of people."
The high praise Venables has for Gabriel shows that he is all on in his quarterback, something that was different from a year ago under Lincoln Riley. This is par for the course for Venables, who has made it clear that having a relationship off the field is just as important as what you can do on the field.
Gabriel will be looking to replicate the success that other transfer quarterbacks have had, such as Baker Mayfield, Kyler Murray, and Jalen Hurts. The success might help get jump started with offensive coordinator Jeff Lebby, who had a relationship with Gabriel back at UCF. The pair won a lot of games for the Knights and will look to carry over their winning ways to the Sooners.