Big 12 News
Joey McGuire Sets Timeline for Naming a Starting Quarterback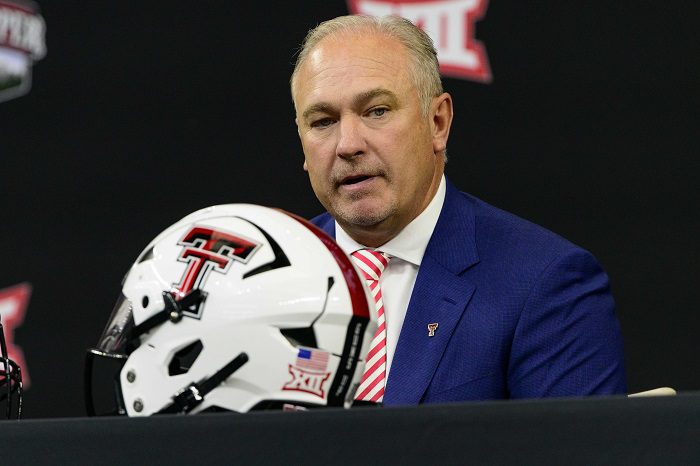 The Red Raiders have been going through a transition from this past season, with Joey McGuire being named the new head coach. This is just one of the many new faces that Red Raiders fans will see.
Texas Tech is coming off a 7-6 overall record last season, with a 3-6 record in the Big 12. They capped the 2021 season off with a 34-7 win in the Liberty Bowl versus former head coach Mike Leach and Mississippi State.
Now, all eyes are on the three-horse race at quarterback between Tyler Shough, Donovan Smith, and Behren Morton. Both Shough and Smith started last season, showing glimpses of being able to lead Texas Tech's offense on the field, but McGuire doesn't want to leave out Morton.
After Big 12 media days, McGuire held another press conference and talked about his timeline for naming a starting QB, saying, "I want to name a quarterback going into the week before the game."
Texas Tech opens the season against Murray State on September 3rd. Below are his further comments on the QB battle.
Last week, McGuire talked about the three players, stating "I told coach Kittley he will never in his career have a quarterback room like he has. We have three guys who can go win football games. We have three guys who can all extend plays with their feet and three guys who have exceptional arm talent."
McGuire, who spent some time as the head coach of Cedar Hill High School near Dallas, Texas, is now considered one of the Big 12's leading recruiters with his ties to the state. We have to see what his team produces on the field, but the Red Raiders are hoping to own the state of Texas in recruiting between both high school players and potential transfers at out-of-state schools wanting to return home.
Texas Tech will open up the season on September 3rd, at home against Murray State, and McGuire wants to name his quarterback the week before their game.