featured
Dillon Gabriel's Leadership Paying Dividends in the Oklahoma Locker Room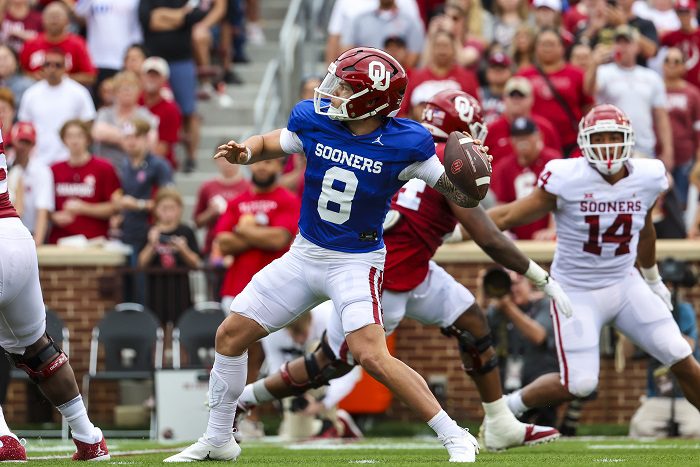 When Dillon Gabriel walks out on the field against Texas El Paso on September 3 to kick off Oklahoma's 2022 season, he will be the sixth quarterback to start a game at Oklahoma in the last five years.
Now, the Sooners haven't had issues at quarterback by any means as they have three quarterbacks that started for NFL franchises last season and two who will start for Power Five programs this year after transferring from Oklahoma this offseason.
The quarterback position at Oklahoma has become somewhat of a Rockstar position in the college football world, and Gabriel took on that role with open arms about seven months ago.
"Dillon's our guy right now," OC Jeff Lebby said back in February. "We got one guy on our roster that's thrown a college football pass. Obviously, he's thrown a bunch of 'em. He's thrown 'em really, really well."
With the quarterback position it is certainly vital to have the means of throwing it "really, really well" but even more of the game is about what goes on between the ears and how the player leads his team. How does Gabriel do that? Well, over the offseason, Gabriel took his teammates on what he called a "Dime Time Retreat," which he says really helped the team bond.
"The Dime Time retreat was just, you know, I'll from the beginning," Gabriel started at Media Days on Thursday. "I've always watched Russell Wilson and what he's been able to do, you know, obviously on a bigger scale and in the NFL with his team. So I kind of tried to replicate that, model that. We booked an Airbnb in Lawton, Oklahoma, kind of away from everything, you know, had some throwing sessions had some time on the lake with the guys and made sure to eat every meal together. Breakfast, lunch, and dinner. That was a big point for me just to connect with one another. No phones, just enjoying each other's time, whether it's, you know, playing pool, on the back playing cornhole, it's just a good time and I think that's just had a big impact on us connecting and obviously the freshmen coming in and summer as well. Just being able to connect with them and it was a great time."
When asked to expand on what he learned as a leader from that experience, Gabriel explained what his mindset was like when he got to Oklahoma and what it has blossomed into at this point.
"I think just when I got here, my mindset was go for broke. Go all in," Gabriel said. "I love the concept of (the retreat), two nights in a house stuck together, you know, I mean, like, guy sleeping on the ground because we had not enough beds, whatever it was, it's just the idea of us all being under one roof. You know, just being all in. Being with the guys.
"I've just learned to invest in the people you care for and love, whether it's taking the time to just have a conversation or asking the necessary questions to learn more about someone and that experience really made me do that."
Adding Gabriel to the Oklahoma roster might prove to be the most impactful transfer in college football next season if the Sooners are able to reach their goals in 2022, but Gabriel has yet to play at the "Power Five" level. Although it might not matter much, considering Gabriel has thrown for 8,037 yards and 70 touchdowns in 26 games. Still yet, Gabriel was asked what he thought about his transition from UCF to a place like Oklahoma was like.
"It's 11 on 11," Gabriel said confidently. "Football is football and I'm excited that it is on a bigger stage. I'm excited for the opportunity, but man you dream for moments in big games and you dream of leading the team and a two minute drill to go win the game or score a TD, so I'm just living out my dream and all my dreams came true."
It's been seven months since Dillon Gabriel came to Norman, and the same amount of time since Brent Venables officially took over the Oklahoma football program. In that time, the Sooners have seen a massive amount of change, both in themselves and in the day-to-day happenings around their program. Gabriel says the biggest change he has noticed since arriving in Norman is the amount of growth he has seen since January.
"I think the amount of growth is what really stood out," Gabriel said. "Seeing where we were in January and seeing where we are in July and seeing where we're gonna be in three weeks, you know, going into fall camp. It's just been it's been an amazing ride, an amazing journey and just consistently finding ways to get better every single day. It's gonna be really important leading into fall camp."
When asked about his leadership, Gabriel turned to being relationship oriented, which he says was instilled in him early on.
"I've always been a people person, you know, and I really, truly care about relationships. I think those are the most important thing in life because if you really care about someone you go above and beyond that, whatever they're asking for, you know, that for me means a lot. I just, I love my teammates. I love people. I love everyone in this building. And it goes farther than just that team. You know the people that help us in equipment room, the training staff, the nutrition staff, strength staff. I mean, everyone has a hand in this and I think relationships are everything and the position I'm in, I have to be (relational). It's been so normal for me because I've been doing it from a young age.
"It's just the way I was raised. Family is everything. I love my family to death and it's always been a family thing. You know, if we're going to the grocery store, everyone's going, whatever it is. So, with this team I tried to model the same thing. I'm the type of guy that if I'm going out to eat I'm not going alone. I'm bringing somebody and just think life is about going together."
Gabriel and the Sooners start fall camp on August 4, which is now just a couple of weeks out, meaning there isn't much time between now and September 3.