featured
Oklahoma, Texas AD's Confirm Schools Intend to Stay in Big 12 Until 2025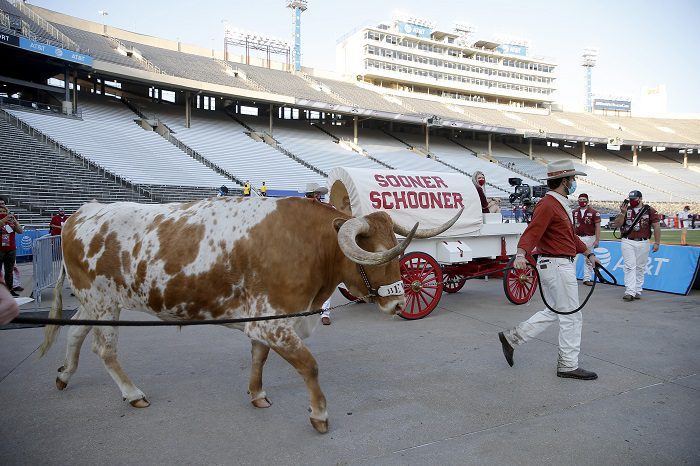 This time last year, the news circling the nation was that Oklahoma and Texas were indeed leaving the Big 12 and heading to the SEC.
Now, after USC and UCLA decided to jump conferences in 2024, the talk of conference realignment has been on the topic of discussion as conference media days roll on.
Last week, incoming Big 12 commissioner Brett Yormark said that he would be open to a "win-win" scenario that sees Oklahoma and Texas exit the Big 12 early, but the athletic directors at both universities maintain that their exit date will be July 1, 2025.
Both Joe Castiglione and Chris Del Conte were at he Texas High School Coaches' Association conference in San Antonio on Monday, speaking about navigating major changes in athletic departments, according to ESPN. There, the AD's addressed the questions head on.
"Look, I know people are asking a lot of those questions and it's fair," Oklahoma AD Joe Castiglione said. "There's a lot changing around us. If that facilitates a conversation that needs to take place about an earlier departure then it does. But I have said very consistently — I know my counterpart [at Texas] Chris Del Conte said the same thing, as have our presidents — that we informed the conference that we would leave after '25 and we plan on fulfilling our obligations and do the honorable thing."
"We're in the Big 12," Texas AD Chris Del Conte said. "We're going to honor our commitments. Those things are all premature."
Ever since the news surfaced that the two programs intended to leave the conference, it has been speculated that they would try to leave earlier than 2025. However, every time that the question is brought back, the answer remains the same.
At every turn, it seems that Oklahoma and Texas intend to stick around until 2025, and in doing so will play two seasons in a 14-team conference. While short-lived, it should be a fun and exciting time in the Big 12.