Trending Now
Greg Sankey on Automatic Qualifiers in CFP: 'I'm Against That'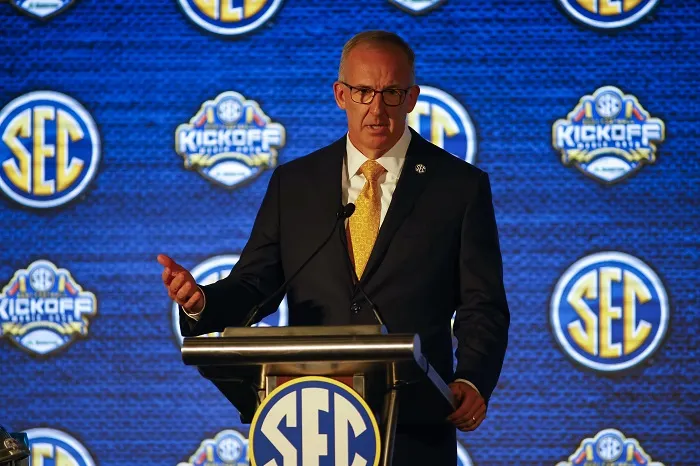 SEC Media Days are underway in Atlanta, Georgia, this week and it didn't take long for commissioner Greg Sankey to make headlines.
Naturally, anything that a conference commissioner says seems to carry substantial weight in the press, but when it concerns anything with the College Football Playoff, it becomes headline worthy.
In this instance, Sankey floated the idea of no conference champions having automatic qualifiers into the College Football Playoff once expansion takes place, but instead having teams "earn" their way in.
Now, the SEC would certainly benefit from there not being automatic qualifiers in the CFP, because they have already proven that they can get more than one team into a field of four. On two separate occasions (2017, 2021) the SEC has had two teams get in, while no other conference has seen more than one.
With that being the basis of which you stand on, of course there isn't a need for automatic qualifiers. Sankey's stance against an eight-team playoff with five automatic bids was firm and to the point.
"No, I'm not going to come back to that. I'm against that," Sankey said Monday during SEC Media Days. 
He clearly feels that automatic qualifiers limits the number of teams his conference can get into the playoff field, which is true to a certain extent, especially if five of the eight teams are conference champions. However, if the number of teams is increased to 12, with six AQ's, then the narrative changes a bit.
"The pressure was there to have conference access with some guarantee," Sankey said of CFP expansion talks. "So the 12-team, six at-large, which increases the at-large access, and six conference qualifiers, not automatic qualifiers, but the guarantee that the six best conference champions was a really good balancing outcome."
On the opposing side of the argument, it could be said that conference champions are "earning" their way into the CFP by winning their conference, rather than being the second or third best team in the conference. Now, all conferences aren't created equally and that is a hard fact to argue. In the eight years that the Playoff has been around, five teams from the SEC have hoisted the trophy at season's end. That is impressive in it's own right. However, that doesn't mean teams from other conferences don't deserve a fair shake, and in the end that is all that the rest of college football wants.