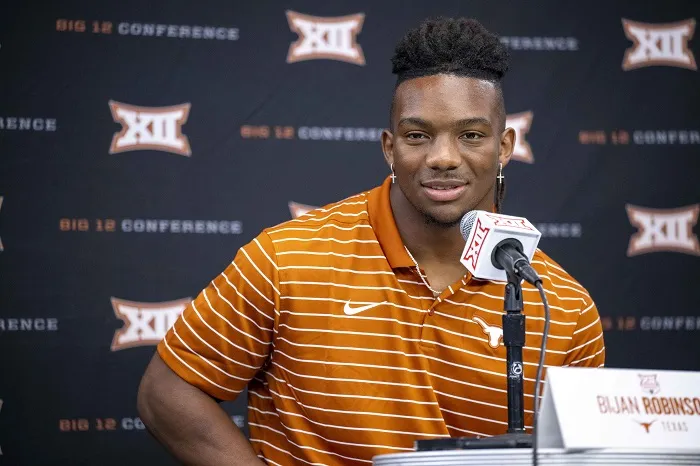 Texas running back Bijan Robinson may have the coolest NIL deal in college sports, and he wants you to know he sees you when he's looking inside his Lamborghini.
In May, Robinson revealed that he had signed his sixth NIL deal, this one with Austin Lamborghini. With the partnership comes a lease for a Lamborghini as long as Robinson is with the Longhorns, which could be just one more year, depending upon whether Robinson decides to turn pro early.
Robinson set off social media when he posted images of him with his new ride. And he wants you to know that he is taking it for a spin on occasion.
And he KNOWS when you're trying to sneak a peek to see if its him.
"I try not to drive it around much because, you know, I'm not like a flashy guy or anything, but when I'm stopped at a stop sign or a stoplight, people will look in the car just to see if it's me or not," Robinson said. "And then they see that it's me and they're kind of like 'Oh my God' and I just wave back. It's cool to drive it around the city and see everyone."
Robinson is one of the most recognized players on the team, so naturally many NIL opportunities have come his way. He said he's choosy about the deals he signs, in part because he wants them to align with his value as a person. He also wants to avoid making it a distraction in the locker room.
He also hopes that his NIL deals open up opportunities for other teammates to reach NIL deal of their own.
"Obviously, it's been it's been really fun," Robinson said. "But I'm just the guy that's gonna try to help out the next man and try to get him in on a deal."
Texas is coming off a 2021 season in which it went 5-7 (3-6) and finished seventh in the Big 12 and wasn't bowl eligible. Second-year head coach Steve Sarkisian landed transfers like five-star Ohio State quarterback Quinn Ewers, wide receivers Isaiah Neyor (Wyoming) and Agiye Hall (Alabama), and tight end Jahleel Billingsley (Alabama).
Texas has two of the country's best skill players in Robinson and wide receiver Xavier Worthy. The Longhorns must rework the offensive line and may see at least one true freshman from their massive offensive line haul in the 2022 signing class in the starting lineup.
Texas returns six starters on defense from a unit that was fell below expectations in 2021 and didn't add many pieces in the transfer portal that could have make an impact in 2022. The roster in Austin is littered with talent and adding former TCU head coach Gary Patterson as a special assistant to the head coach could help clean up some defensive woes. If Texas is to make waves this season its defense will need to be much improved.
The Longhorns start the season Sept. 3 with Louisiana-Monroe and will host Nick Saban and the Alabama Crimson Tide one week later.
Matthew Postins can be found on Twitter @PostinsPostcard