Oklahoma Sooners
Kirk Herbstreit: Oklahoma Will Need to 'Raise the Bar' Before Move to SEC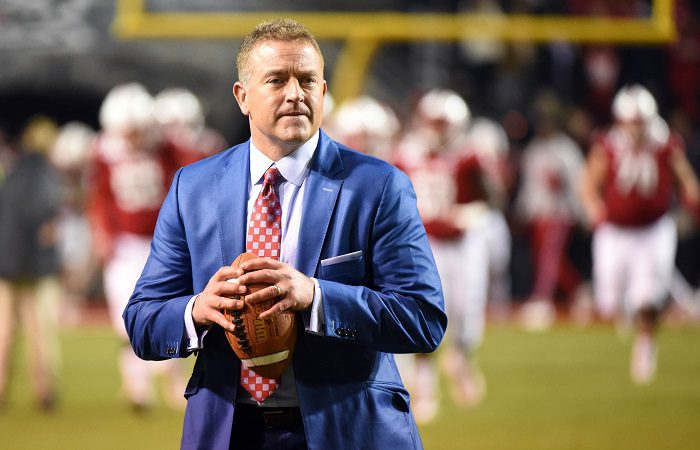 When Oklahoma makes its move to the SEC in 2025 they will no longer be viewed as the Top Dog in their conference year-in and year-out.
The 14-time Big 12 champions will likely be seen as the third-best team in the conference when they enter, barring a major turnaround in Baton Rouge that could see their projected finish overall slide to the four spot.
For the time being, the Alabama Crimson Tide and the Georgia Bulldogs are the cream of the cash crop that is SEC football, and there aren't any quarrels here about that.
ESPN personality Kirk Herbstreit feels that the Sooners have a long way to go before they are prepared to compete with the "big boys" in the SEC.
"If you're referring to the competition on the field, they're going to have to raise the bar," Herbstreit says Monday on First Take. "I think that's one of the things Brent Venables recognized right away when he got to OU. He was there as a coordinator for a lot of years, had a lot of success with Bob Stoops, goes to Clemson and sees, 'Boy, they're doing things a little bit differently. When Dabo needs something, Dabo gets it.' Clemson, even though they're in the ACC, they're competing against Alabama, they're competing against Ohio State."
The Sooners are coming off a five-year stint under Lincoln Riley where they went 56-10 and made three straight College Football Playoffs from 2017-19. Unfortunately, Riley never got over the hump as the skipper in Norman, losing in every Playoff game that OU made under his leadership. Then, after a disappointing 10-2 season in 2021, Riley jumped ship to USC and Oklahoma brought in Venables.
"I think (Venables) got to Oklahoma and he thought, 'Hey guys, you're doing a great job here in the Big 12, but if you're trying to go over there in the SEC, we're going to have to go to a whole different level as far as commitment," Herbstreit said. "And I think right now, they're trying to kind of stabilize themselves. They're going to have to raise the bar as far as what it's going to take to compete with those big boys."
Putting your head in the sand and pretending that Brent Venables and the Sooners won't be contenders each and every year in the SEC is a bit naïve. Still yet, it's clear that OU will need to make some significant improvements before being the preseason favorite over Bama and UGA.