featured
National Media Crying Wolf on Pac-12 Stability Amid Big 12 Expansion Talks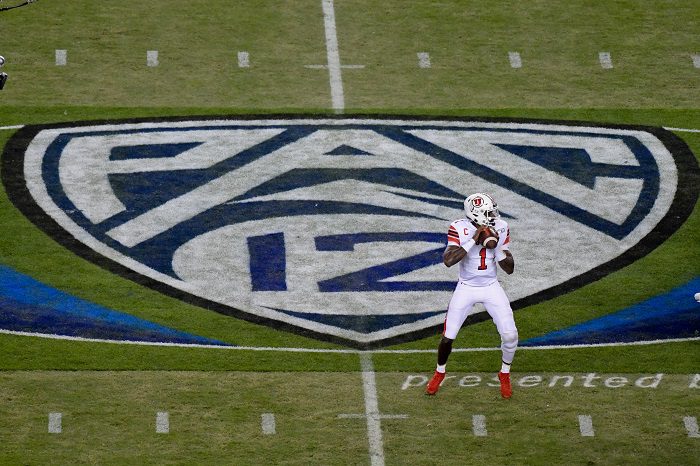 It's been a wild last few weeks in the college football world. I thought that last year's news of Oklahoma and Texas leaving was going to be crazy, but it hasn't had the same domino effect that the news of USC and UCLA to the Big Ten has had.
 Everyone had their own opinion in what was going to happen, and we have now waited for weeks for more realignment news to come out. New Big 12 commissioner Brett Yormark said that the Big 12 was "open for business" during his first public press conference at Big 12 media days. Apparently, that also means he can turn down business as well as news broke Monday night that there will be no merger between the Big 12 and the rest of the Pac-12.
Now keep in mind, just because this merger isn't going to happen doesn't mean the Big 12 can't bring in individual schools. Perhaps the conference realized it isn't worth bringing in the ten remaining Pac-12 schools and is just interested in a few of them. It has been rumored for awhile now that the conference has set their sights on four schools which are Arizona, Arizona State, Utah, and Colorado. And don't exclude Oregon or Washington either.
To me, those schools would make a lot of sense to bring in if the money is right. However, why would the Big 12 want to merge with schools like Oregon State, Washington State, and Cal? The Big 12 shouldn't be worried about academic prestige like the Pac-12 was for so long. It should be focused on making the most money for all of the schools in the conference.
Speaking of making money, I am confident in saying that at some point the Big 12 will expand. Expansion will make the conference more stable and like I mentioned earlier, with the right schools can bring in more money. Another thing people aren't talking about are potential time slots. The Big 12 will have three schools in eastern time zones (WVU, UCF, and Cincinnati). Of course, there will be plenty of schools in the central time zone and BYU is currently the lone member in the mountain time zone. Bringing in more Pac-12 schools could expand the kickoff slots for the Big 12 meaning a game in every single time zone in the country. That also means a potential for 12 plus hours of Big 12 football. That's a big selling point to any company that is interested in airing Big 12 football in the future.
Call me crazy, but maybe Brett Yormark is letting this thing play out naturally. Think about it. The Pac-12 without USC or UCLA is going to be by far the lowest paid Power Five conference. In fact, they already were even with those two schools from Los Angeles. Their television deal is up in two years and pretty soon they are going to realize that the 10 remaining schools sticking together isn't going to pay the bills. Maybe the Big 12 is just waiting for the Pac-12 to fall apart on their own and then pick up some of the pieces. Remember, no matter what anybody says the Big 12 doesn't need to bail out the Pac-12. The Pac-12 is the conference that is crumbling before our very eyes.
Of course, people like Stewart Mandel refuse to realize that.
Seriously Stewart, are you on George Kliavkoff's payroll? Where was this talk about saving the Big 12 last year? You were ready to bury it every chance you got, but now you are out here on Twitter talking up the Pac-12 like they are in some great position of power after loosing two of their biggest brands.
How much denial does a person have to be to tweet this? Oregon and Washington aren't committed to the Pac-12. They are on the first train out if they can so to use them as your top two brands representing the Pac-12 is crazy. Meanwhile, the Big 12 is as stable as it's been in awhile and in a position to strengthen itself. The Big 12 can play offense here while the Pac-12 is praying to be saved and not picked apart team by team until there is nothing left.
First Dennis Dodd had a terrible take and now Stewart Mandel strikes again. I guess the circus is in town because it has just been one clown show after another with these terrible takes from national media. Of course, I can't forget about his old takes either.