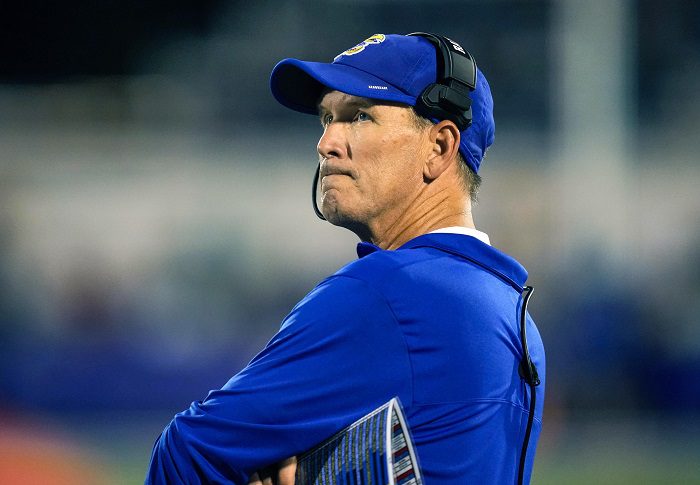 Another head coach has come into Kansas, to embark on what has proven to be a frankly impossible mission. So far that is, but this time could be different for Lance Leipold and the Jayhawks. After playing OU close, and beating Texas in Austin (not sure if you've heard about that one) there's a real belief that he could finally lift the Jayhawks from frankly embarrassing to a bowl team, and maybe even back to the highs they experienced in 2007 when they won a BCS bowl.
What Happened to Kansas Football?
Kansas has always been a basketball school, but they didn't always use to be this bad. While they're last Conference title came back in the Big 8 in 1968. Back when they had Mark Mangino from 2002 to 2009, they made four bowl games, winning three, including the 2007 Orange Bowl, after reaching No. 2 in the nation. 2007 is widely considered the craziest year in college football history, and nothing better represents that than Kansas reaching number 2 in the nation at 11-0 before losing to #4 Missouri in the final game. 
But the most promising era in Kansas football would come crashing down to an end in 2009, after a 4-8 season. Mark Mangino was embroiled in player abuse scandals, including grabbing players, and incidents with campus staff for issuing him parking tickets. Mangino and Kansas would agree to a buyout, and that four-win mark still marks Kansas' most successful season since, as they haven't won four games after Mangino was shown the door.
Turner Gill was the first man tasked with rebuilding the Jayhawks, but after a 3-9, 2010, and a 2-10 season in 2011 was promptly released. Then came the Charlie Weis area, but they would regress again going 1-11 in 2012, then 3-9 in 2013, and a 2-2 start in 2014, he'd be released midseason, that they'd finish 3-9. David Beaty was the next man tapped, he'd go 0-12 in 2015, before a 2-10 season that included a win over Texas in 2016. Beaty spoke on the field after that win, claiming this was the boost they needed to build up Kansas, but they'd go 1-11 in 2017, before a 3-9 season in 2018, followed by his dismissal. But he would be hired as a consultant for Texas at least.
Then in 2019 Kansas went for a splash, with the hiring of Les Miles, they would however be soaked in water that quite frankly isn't fit for the human body. There was optimism though at first as they went 3-9 with a win over both Boston College, and Texas Tech. But it didn't last long as they would go 0-9 in the COVID shortened 2020, though to be fair he didn't get a crack at Texas. Then the offseason came, and with it came an absolute horror show for Kansas athletics. Les Miles was apparently having inappropriate relations with LSU female students, while at LSU. While I try not to get controversial here, I do feel like a 60-year-old football head coach having relationships with students that can't drink, at the university that pays him, is not a good look. He was also accused of trying to "sexualize" the staff, describing the women he wanted on staff. Again not great. So following his dismissal Kansas went with a fresh face that may never give an interesting quote in his life, Lance Leipold. However there's reason to believe he may just be the man to turn Kansas around.
Reasons for Hope
Now, there is reason for KU fans to believe though, while they went a pitiful 2-10 last season, they're performance was anything but. While they suffered an ugly first five losses to fall to 1-5, including a win over FCS South Dakota State to start the season. Week 7 would be a different story as they led No. 3 Oklahoma late, before falling 35-23, and KU fans will be haunted by a late call, which would've given the ball back to KU with a chance at the win. Two more losses would follow as they fell to a dismal 1-8. But in week 10 they'd face Texas in Austin, and after a gutsy call to go for two they would beat the Longhorns 57-56 in OT in Austin, and it must be said QB Jalon Daniels was spectacular. The next week they'd head to Fort Worth and play TCU to a hard fought 31-28 loss that they led at half. Another valiant performance would follow from a talent lacking KU team as they'd fall 34-28 to West Virginia, which was fighting for a bowl berth.
Now I get it David Beaty also beat Texas in a 2-10 season, and many felt then this could launch them. But this feels different, just look at how they fought the final two weeks, and the facts of what's going on in the program back it up.
No, Kansas' 2022 recruiting class isn't mind blowing, they didn't even get any of the top 15 players in Kansas. They have the worst ranked recruiting class in the Big 12 coming in, and 66 in the nation with just 11 recruits. But that's okay for the Jayhawks when you consider they rank #21 nationally in the transfer portal with 12 players coming in. Leipold has chosen a direction that makes sense, there's clearly a lack of talent on Kansas' roster to be able to compete in the Big 12, and a healthy mix of young but experienced transfers, alongside new recruits will build the team out for this season, with hopes it can prove to future recruits, Kansas can compete.
Another reason for Jayhawks fans to be optimistic is their coach has already built up one program. He took over a 5-7 Buffalo team in 2015, and matched that his first season there, even dropping to 2-10 in 2016. By 2017 Buffalo became bowl eligible, and made bowls from 2018 to 2020 winning two of them. Add onto that he made two MAC title games, losing in 2018 by a single point, he's proven that he can turn programs hanging out in the bottom of the standings into Conference title contenders.
Still A Ways To Go
A year away may be too ambitious to describe Kansas football as, they may be more like a year away from a year away. But it seems entirely plausible that by 2024 they can be back in a Bowl game, and should they do that with the large fanbase that they have, in the NIL area, could then look at the next step of competing for more, and possibly turn into contenders in the new Big 12 this decade. It's a long way to go, but there's once again reason to believe Lawrence may finally have a competitive football team sooner rather than later. The foundation has begun to be laid, the atmosphere and culture is changing, and they have a man at the top with experience in this situation. Whether he can make the jump from a rebuilder in the MAC to one in the Big 12 is the question that remains to be answered.