Trending Now
ACC Commissioner Jim Phillips Suggests ACC Not Interested in Expansion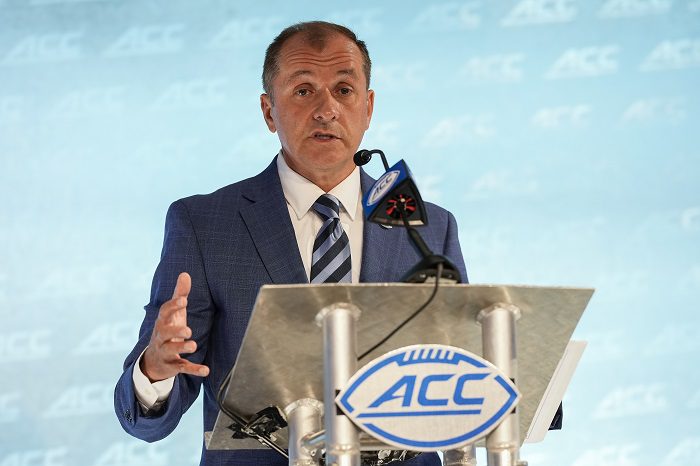 ACC media days got underway in Charlotte, North Carolina on Wednesday, with commissioner Jim Phillips hit the stand to get things going.
As with the other conference media days, expansion and conference realignment was one of, if not the major topic of conversation.
However, unlike Big 12 commissioner Brett Yormark, Phillips portrayed a feeling of satisfaction with the current makeup of the ACC.
"I love our 15 schools and I'm confident in us staying together," Phillips said, according to ESPN's Pete Thamel. "That's all I've heard in all the calls we've had."
Phillips went on to liken an ideal NCAA structure to a ""healthy neighborhood, not two or three gated communities," seeming to point fingers at the SEC and Big Ten.
"All neighborhoods need to be healthy," Phillips said. "It's not good for college athletics if they're not… We understand where those two leagues are. No one is ignoring that. We're all trying to find ways to close that gap."
Throughout his address, Phillips maintained the sentiment that leaders "must serve many, not a few," adding that the difference between the NCAA and professional leagues is what makes college athletics great.
"We are not the professional ranks," Phillips said. "This is not NFL or NBA-lite. We all remain competitive with one another. This is not and should not be a winner take all or a zero-sum structure."