featured
Kansas Football Shrouded in Cautious Optimism Heading into 2022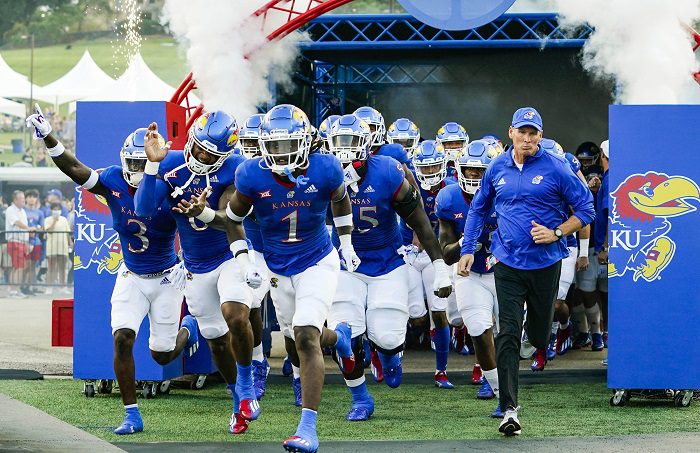 Heading into the 2022 college football season, there should be cautious optimism surrounding the University of Kansas Football Program. I know, it's been well over a decade since KU's been competitive in football, but things seem to be turning.
Kansas head coach Lance Leipold spoke to the media at Big 12 Media days last week and shared some quotes that could go a long way with the fanbase.
"We are not in the moral victory business." Leipold said to the media. 
Though this can be seen as a cliche, this is something that needed to be said. At the end of last season, there was a lot of moral victory talk around the program. Leipold had enough of it and that's something you love to see from the head coach.
It's fine to have a moral victory here and there but getting wins on the field is what it comes down to at the end of the day. Beating Tennessee Tech in Week 1 by double digits and then coming back to lose by a field goal to West Virginia in Week 2 would be a test to that theory. 
Of course, this is a "what if" scenario, but if that were to play out, anything other than saying "not getting the win at West Virginia was unacceptable" would be a back pedal from those words at Big 12 Media days from Leipold. 
Of course, he can praise his team for the good things they did in a loss while still remaining accountable for a loss. However, it sounds like Leipold is ready to take it to another level. 
When talking about moral victories vs. actual victories, there can be a significant difference when it comes to recruiting and Leipold is already seeing the benefits after beating Texas last season. 
"The win against Texas in 2021 was good for recruiting high school kids in the Lone Star State… now we gotta build on it." Leipold said.
Three of KU's six verbal commitments for 2023 have been from Texas. This is huge for recruiting when you can get into the state and get some higher profile recruits after a big win. If Kansas had lost that game in overtime to Texas, sure, there would have been some moral victories. However, it's unclear whether those recruits would have been impressed with a moral victory vs an actual win.
The team got bigger up front on both sides of the ball. Being able to add size to both stop the run on defense and get the ground game going on offense will be a huge part to their success. 
"We haven't lost anybody on the two deep roster that didn't graduate." Leipold added.
There are 17 starters returning and Leipold is impressed at the leadership and confidence in his team. The guys are buying into the system and that is an important part of a turnaround.
"We might be able to turn this thing around quicker than people realize." Leipold said.
Turning it around could be interpreted in a few different ways. Getting more wins than they have in over a decade would just mean getting to four wins. Getting to a bowl game this year would be an impressive turnaround. Where does Leipold expect them to be? I wasn't there to ask the question but it seems like he has higher hopes for this team than many in the media would believe.
The program also landed as the 21st ranked program in the transfer portal. They picked up some key additions and Leipold will continue to try and build the program both through traditional recruiting and through the transfer portal.
It seems like there is some strong momentum for the Jayhawks heading into football season and that is something to be celebrated before the team even hits the field. 
Just another reminder for those who may have forgotten these facts: Lance Leipold is the fastest coach in NCAA history to get to 100 wins. He is a 6-time DIII national champion. He won three consecutive bowl games with Buffalo and led the program to their first bowl win and first 10 win season.
Leipold can turn the Jayhawks football program around and get them back to a bowl game for the first time since 2009. Can he do it this year? That is a tall task but never say never with Leipold leading the way.