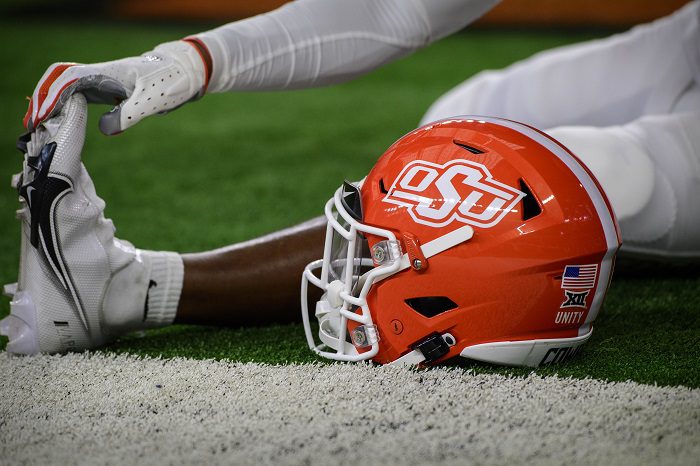 Oklahoma State fans got a general idea Wednesday of what the team's new turf design will look like this coming fall.
Photos from inside Boone Pickens Stadium by multiple different sources show the almost completed laydown of OSU's brand new turf and design, looking brighter and bolder than ever.
OSU seems to be going with an update of the previous design as well as a more vibrant green grass. The midfield logo has been updated to the school's current 'OSU' brand, piggybacking off of head coach Mike Gundy's "we've got a logo too" proclamation following the team's 37-35 win over Notre Dame in the Fiesta Bowl.
As for the new endzones, it looks as if OSU is keeping the 'OKLAHOMA STATE' in black lettering with an orange background, but are going with a slightly different font than before. As Cade Webb from the Feels Like 45 Podcast pointed out, it looks like the same font used on OSU baseball's pinstripe uniforms, showing a sense of identity across all sports.
Cowboy basketball analyst Barry Hinson has been leaking occasional photos on Twitter of the window view from his office showing the progression of the new turf.
The Cowboys' previous field design had existed since the 2014-2015 season, but the wear-and-tear of cleats and Bullet hooves over the years faded the color, making the field show up poorly on TV. Daytime games looked especially not great as time passed. As for the design itself, the midfield logo was an outdated brand that hasn't been used for around four or five years now. The endzone font was also outdated, with the new font more closely representing the program's recent rebranding.
Oklahoma State posted a record of 72-31 during the previous field's tenure. The Pokes will debut the new field Sept. 1, against Central Michigan.