Big 12 News
Chris Klieman on College Football: 'Evolve and Adapt and Adjust'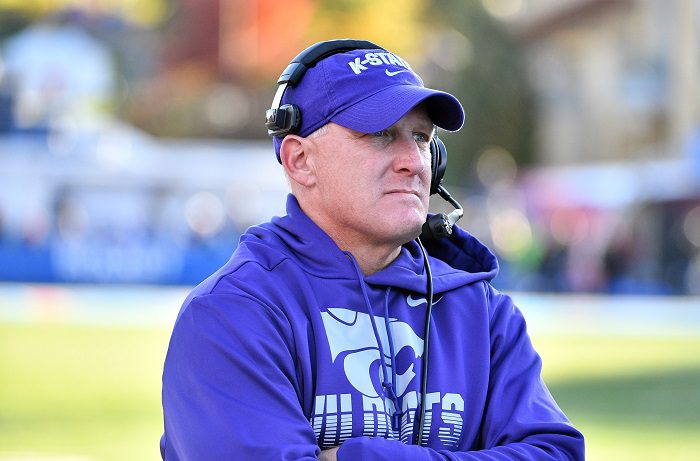 Kansas State head coach Chris Klieman knows that you can either complain about change or find a way to roll with it.
And, no, he wasn't talking about conference realignment. He was actually talking about his football team.
For the second straight season, Klieman is making significant changes on a side of the football. For 2022, the changes are on offense. With Skylar Thompson out of eligibility, the Wildcats are set to hand the reins to transfer quarterback Adrian Martinez. Klieman also elevated K-State quarterbacking legend Collin Klein to offensive coordinator, with the goal of adding wrinkles to the Wildcats' current offense.
It also sounds like Klein is going to add some pace to the playbook, too. It doesn't mean that the Wildcats are going to be a 90-play juggernaut. But, Kliemen clearly wants Klein to make the offense his own.
And if that means change, then so be it.
"College athletics right now is evolve and adapt and adjust, and you can complain about it or you can go with the times, and there's no reason to complain about it or say poor us or what are they doing with this rule or that rule?" Klieman said at Big 12 Media Days. "You just have to control what you can control and adapt and adjust."
Last year, the Wildcats made changes on the defensive side. Those adjustments, including a 3-3-5 alignment, helped the Wildcats get better overall. They were in the Top 50 nationally in all four major defensive categories, and they only gave up 21 points per game. The tweaks on defense helped pass rusher Felix Anudike-Uzomah become an All-America. Klieman is also excited about what the changes can for players like linebacker Daniel Green in Year 2.
Klieman also mentioned how the changes helped last year's All-Big 12 safety, Russ Yeast, who is now out of eligibility.
"Nothing surprises me in college athletics," Klieman said. "I'm glad, honestly. "It gives me energy. To do with the defense last year and now to do it a little bit more with the offense, just to kind of learn more and also tell them what hurts the defense."
Kansas State was a middle-of-the-pack offense last year, and Klieman hopes the chances Klein will make, along with the infusion of Martinez — who had more than 10,000 total yards at Nebraska in four seasons — will help lift the unit overall.
The Wildcats do have All-American running back Deuce Vaughn, who led Kansas State with 1,404 yards rushing with 18 touchdowns and caught another 49 passes with 468 yards and four touchdowns. His reception total led the team, too.
K-State finished 8-5 last season and wrapped up the season with a win over LSU in the Texas Bowl.
The Wildcats open the season on Sept. 3 at home against South Dakota, followed by home games with Missouri on Sept. 10 and Tulane on Sept. 17. Kansas State opens Big 12 play at Oklahoma on Sept. 24.
You can find Matthew Postins on Twitter @PostinsPostcard.