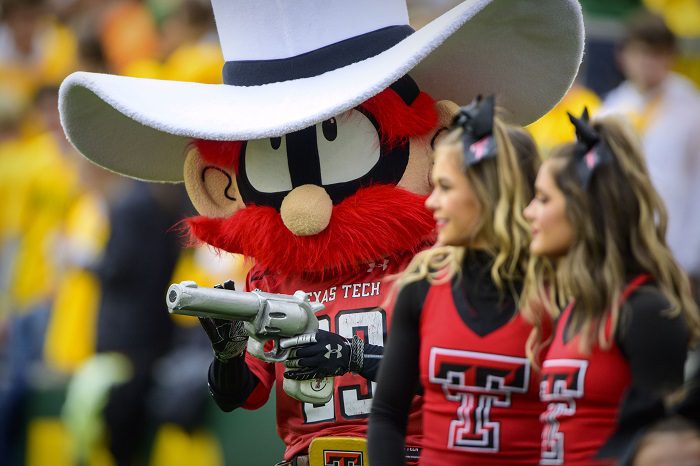 The traditions of college football are about as unique as the sport itself. From hand signs, to chants or anything in between, it's what makes college football a one-of-a-kind sport. Every school has them and just about all of them are different but special in their own way.
When I think about Texas Tech, I think about the Double T scoreboard and the Masked Rider before the team runs out on the field. However, something new has emerged over the last few days. The Cactus.
It all started when TCU Athletic Director Jeremiah Donati rolled out a plan that does not allow Texas Tech fans to purchase single-game tickets to their football matchup in Fort Worth this fall. Of course, Texas Tech fans responded in anger and even their Athletics' Twitter account took a fun jab at TCU.
It even got to the point where TCU Athletic Director Jeremiah Donati had to respond due to his mentions being blown up.
The final straw came when TCU recruiting coordinator Bryan Carrington took a shot at Texas Tech after their recent announcement of their one-year $25,000 to 100 football players. The new NIL deal will give all 85 scholarship players and 15 walk-ons an NIL contract.
Carrington went on a five-tweet rant telling recruits to be careful about "building their brand in a desert."
And once again, that fired up the Texas Tech fan base in a way I have never seen before. The cactus emoji caught fire within the Red Raider faithful, even to the point where former Texas Tech quarterback and current Kansas City Chiefs quarterback Patrick Mahomes took to Twitter to show his support.
Of course, head football coach Joey McGuire joined the party as well.
Perhaps the craziest thing to come out of all this? Subscribers to RedRaiderSports.com, a Texas Tech sports news outlet, raised $3,000 to send Carrington and the TCU staff cacti.
While the TCU offices flood with cacti, I will give a shoutout to the Gamblin' Gauchos Twitter account. The Texas Tech fan base feels as united as ever and they did a really awesome thing for teachers out in west Texas.
This is why I love college athletics. It's like the Olive Garden slogan, "When you're here you're family." Except you don't need to go buy some subpar pasta with sauce (OK, the breadsticks and salad are good).
The fact is that college football and sports in general bring people together. No matter where you are or what time it is, you are always a part of the school you love and cheer for. You could be thousands of miles away from your school and there's a good chance you will meet someone else that cheers for the same school you do.
As for the folks out in West Texas, the cactus isn't just some emoji. It's a way of life. I'll admit, I am not from West Texas, but I have been to Lubbock a few times covering games. It is different. From the six-hour drive from where I am at to Lubbock itself. I enjoy the desert views on my way there and who needs cell service when I can look out the window and see the beautiful canyons and the red dirt. Of course, I can't forget about Caprock Café or the fried cheese at Spanky's.
I am not a Texas Tech fan or a homer, but I even was wanting to send cactus out to TCU myself because it was so tempting after seeing the wave of Red Raider fans unite. Sometimes it just takes a rival to say something dumb to get a fan base fired up.
I don't think TCU realizes what they just did. They just woke up Red Raider nation.
In the end, it doesn't matter whether you root for TCU or Texas Tech. The support will be there for Texas Tech come November 5th whether TCU likes it or not. For those around the Big 12, this may be a game you circle on your calendar, and I may even find myself in Fort Worth on that very day inside Amon G. Carter Stadium to witness the chaos. It's crazy to think that all of this started with a ticket sale but sometimes it's the smallest things that turn into the biggest deals. Texas Tech turned something that was negative into a positive and I am not sure how one can argue against that no matter who you root for. As for the cactus emoji, I hope it is here to stay for years to come.