Big 12 News
Why Steve Sarkisian Hired Gary Patterson: 'A Thorn in My Side'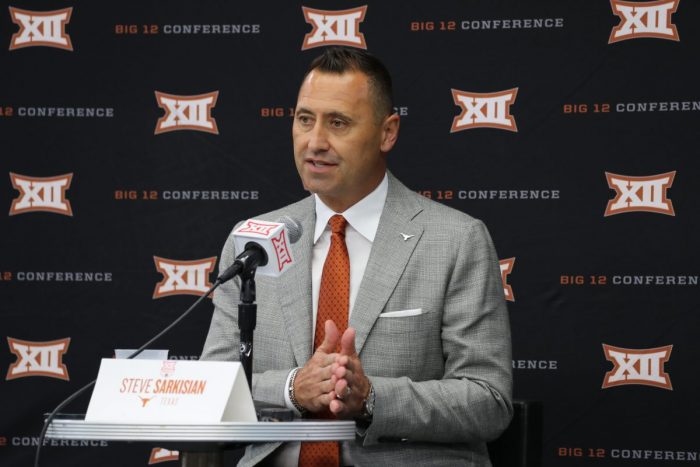 Steve Sarkisian wasn't afraid to bring in former TCU head coach Gary Patterson as part of his staff for the 2022 season. In fact, he wanted it.
"I like people that are a thorn in my side because I think we're pretty good at what we do," Sarkisian said at Big 12 Media Days.
Sarkisian went up against Patterson on Oct. 2 of last year and the Longhorns won the game, 32-27, despite it being in Fort Worth. Patterson, who spent more than 20 seasons with the Horned Frogs before being let go later that month, is considered one of college football's top defensive minds.
It helped that Patterson's former boss at TCU, Chris Del Conte, is now the athletic director at Texas.
Patterson ended up at Texas as a special assistant to Sarkisian. Patterson, in fact, isn't even on the UT coaching staff web site. His role is somewhat undefined. It's a role that many exiled head coaches have filled in the past decade, most notably at Alabama, where head coach Nick Saban has taken in a myriad of former head coaches in various roles, including Sarkisian as his offensive coordinator.
Patterson isn't in Austin just to draw a paycheck and crank out new country singles, though. If anything, Sarkisian seems to love the fact that he has someone on his staff that game-planned against him last season.
"I think sometimes with a guy like Gary, who game-planned against me last year, right?" Sarkisian said. "You know, one of the bigger things I've learned is just kind of how he looked at our offense and what he would do to try to stop us because, you know, he's a big picture thinker. That helps me say, 'Okay, well, we got to make sure that we are checking off these boxes so people can't say we're one dimensional when we do this, or when we do that.'"
Sarkisian has another element of that on his staff in defensive coordinator Pete Kwiatkowski. Before the two were co-workers in Austin, Kwiatkowski was the defensive coordinator at Washington when Sarkisian was the head coach at USC in 2014-15.
It takes self-scouting to another level, Sarkisian says.
"When they can evaluate us and say, 'Hey, this isn't very good,' or, 'You could make it harder if you did this or did that,'" Sarkisian said. "Then I take the I take that constructive criticism to heart and I think that's one way Gary's really helped me."
Texas is coming off a 2021 season in which it went 5-7 (3-6) and finished seventh in the Big 12 and wasn't bowl eligible. Sarkisian landed transfers like five-star Ohio State quarterback Quinn Ewers, wide receivers Isaiah Neyor (Wyoming) and Agiye Hall (Alabama), and tight end Jahleel Billingsley (Alabama).
The Longhorns start the season Sept. 3 with Louisiana-Monroe and will host Nick Saban and the Alabama Crimson Tide one week later.
You can find Matthew Postins on Twitter @PostinsPostcard.