Big 12 News
Kansas' Bill Self Kept Off Recruiting Trail Due to NCAA Probe: Report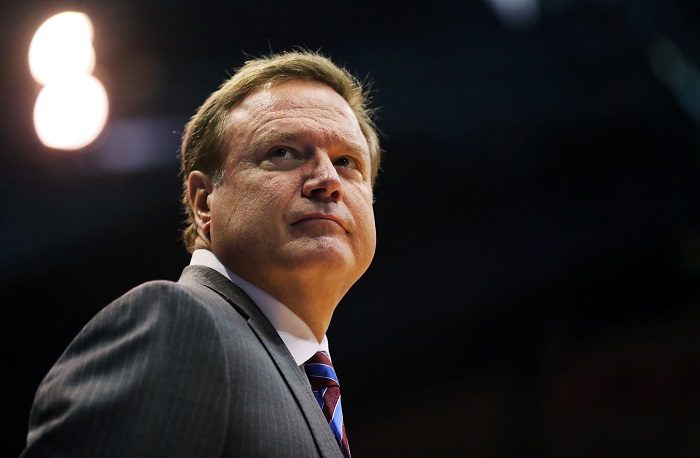 According to CBS Sports' Matt Norlander, Kansas head coach Bill Self and assistant Kurtis Townsend have been held off the recruiting trail during the months of June and July while the NCAA continues its probe into the Jayhawks' recruiting practices.
It is worth noting that KU still had coaches out on the trail, with assistants Norm Roberts and Jeremy Case shouldering the recruiting load this summer.
In February of 2019, KU received notice of allegations from the NCAA, stemming from an FBI investigation into bribery and corruption across college basketball. Kansas responded to those allegations in May 2020, but since that point there has been no public comment from the school regarding the matter.
In Norlander's report, he points to Self and Townsend sitting out from the recruiting trail as the "first cooperative effort" from Kansas in this investigation, which is significant.
"Self and Townsend were subject to self-imposed sanctions from Kansas that signal the first cooperative effort by the program as it continues a years-long battle with the NCAA stemming from the FBI investigation into bribery and corruption in college basketball recruiting. …
"Privately, Kansas has been ferociously fighting back at nearly every allegation the NCAA is pinning to Self and the program. Kansas is facing five Level I allegations, including a lack of institutional control, in addition to Level I violations individually against Self and Townsend. Kansas is one of many schools involved in the Independent Accountability Resolution Process (IARP), which was created following the fallout from the FBI investigation. That case went public in September 2017. Nearly five years later, program such as Kansas, Arizona and LSU are still awaiting resolution in their cases."
If Kansas does get hit with Level I violations, Self and other members of the KU staff could face suspension, or even termination. As with everything else that involves the NCAA, this is just a waiting game and only time will tell what Jayhawks' basketball will do going forward.