featured
The National Media Continues to Try and Bail Out the Pac-12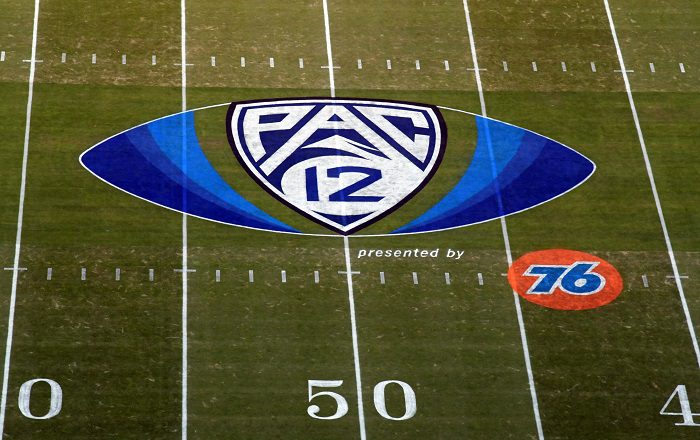 Another day means another journalist pushing a false narrative about the Pac-12, a conference that is on the verge of crumbling, but seems to be full of life, according to some.
Those individuals are living in a fantasy world, but I am here to focus on one particular person. Stewart Mandel. For those who don't know Stewart Mandel is the Editor-in-Chief for college football at The Athletic.
I am surprised he hasn't changed his job title yet because I feel like he has been working for the Pac-12 over the last year or so with the way he talks about that conference.
If you are unaware of what I am referencing, here is a nice little trip down memory lane of Stewart sticking up for the beloved Pac-12.
No matter where you are or what you are doing, that excuse about the beach still makes me laugh to this day.
On Monday, Stewart released an article about Pac-12 television numbers, comparing them to those of the Big 12.
Where in the hell was this kind of article last year when the Big 12 was the conference in shambles? Instead, Mandel decided to pronounce the Big 12 dead on arrival and bought a headstone to put over its grave.
In case you don't have a subscription to the Athletic (I had to use someone else's login), his article presents many points. First, he says that the Big 12 losing Texas and Oklahoma were bigger than the Pac-12 losing USC and UCLA. Valid. He then compares television ratings from 2015-2019 and 2021. He left out 2020 due to COVID-19. Speaking of COVID, remember when that nearly killed football out west?
Anyways, back to his article. He then talks about how six Pac-12 schools (not named USC or UCLA) are better than what will be left of the Big 12. He also goes on about the late time slot being a huge advantage before finishing it off by saying "Like the Pac-12, the rebuilt Big 12 is to be determined. But based on the ratings numbers in this story, it's hard to see why the Pac-12 would be in a weaker position."
First off, we are comparing apples to oranges with this entire argument he has. Shout out to Sam Bradshaw from SicEm365 for drawing up some numbers here.
49% of the Pac-12's games from 2013-2021 were aired on ABC, ESPN, or FOX. Meanwhile 45% of the Big 12's games were on FS1 or ESPNU. No matter what, the ABC/ESPN/FOX window is always going to win. It has nothing to do really with the teams playing because it is more about the network the game is on here.
Sam gives a great chart here for showing just how crazy the comparison is. Look at the numbers from ESPNU and FS1 compared to the other networks.
You see, Stewart did his own chart with straight math. He didn't consider the networks these games are being aired own. As for the precious late night time slot, you know what would do better? Put some Big 12 teams in that late night window and see how it would outperform the Pac-12. Why would the Big 12 crush them in that same spot? It's simple.
Because, unlike those in the Pac-12, people in Big 12 Country actually care about football.
If you put the Big 12 in the same position and time slots that the Pac-12 currently has it wouldn't even be close. Instead, the Big 12 is going up against the SEC and Big Ten in those earlier time slots. If the Pac-12 had to do that they would've been left for dead years ago.
Also, people like Stewart seem to have forgotten about Oregon and Washington. It is foregone conclusion that those two schools will be on the first ticket out of town if given the opportunity. They are not schools that other Pac-12 schools should be following around hanging on their every word.
Listen, I am just here to tell y'all that some of these "national media" members will say anything to push their own narratives, regardless of how asinine those narratives might be. Stewart is not the only one doing this right now, as Jon Wilner from the San Jose Mercury News and John Canzano wrote similar articles on Monday. Canzano even had Stewart come on his podcast to talk about the Big 12 vs the Pac-12. I didn't even need to listen to that garbage to know where the conversation was headed.
Do you think it was a coincidence that all three of these guys came to the exact same conclusion for their articles to all be released Monday morning? Well, it is pretty easy to tell what these three talked about this past weekend. Monday was all about television ratings, so I am curious to see what the rest of the week brings with Pac-12 media days coming up.
Whatever it may be, I'll be sure to bring a trash can because that's where this Pac-12 nonsense belongs, in the garbage.