Big 12 News
Arizona's Administration 'Would Like to be in the Big 12 Right Now': Report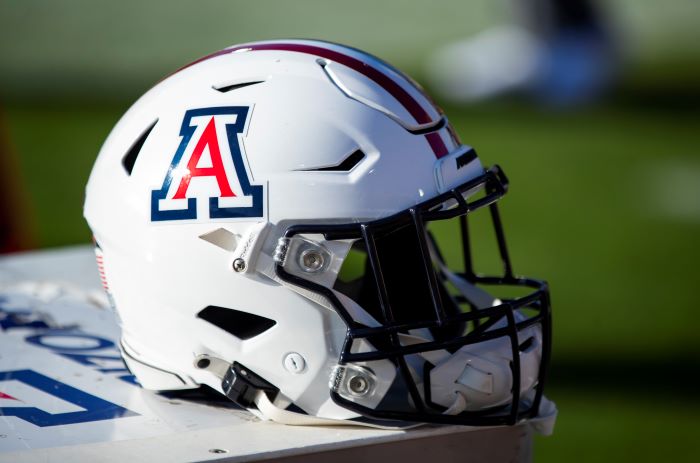 Conference realignment is the topic sweeping the college football world right now as media days start to wrap up and fall camp kicks off around the country next week.
There has been heavy speculation that the Pac-12 is on the verge of falling apart after UCLA and USC announced their departure from the conference around a month ago.
To make matters worse, rumors of a lowball television offer from ESPN has seemingly caused the remaining members to become uneasy about the future of the conference.
Reports surfaced that Arizona, Arizona State, Colorado, and Utah were being targeted by the Big 12, who is looking to expand if it adds value to their conference, but conflicting reports said that discussions were being "overstated."
However, 247Sports' Jason Scheer, who covers Arizona for the site, joined SicEm365 radio and had some interesting things to say about where the Wildcats currently stand.
"I feel comfortable saying that the Arizona Administration would like to be in the Big 12 right now," Scheer told SicEm365. "There are aspects to that at play. They don't want to go alone. If Utah comes with them, that would be probably the strongest option. If Utah says 'we'll go to the Big 12 with you,' that becomes a situation where they both jump at once.
"If Arizona is going to need another school to come with it, I think they're willing to see if the Pac-12 can make it worth it for them to stay with a certain financial offer. But right now, let's say the negotiating window closed and the offers weren't coming in, Arizona would be gone. I think they're probably the most active school, from what I understand and what I've heard, in looking towards the Big 12."
Scheer also disclosed the numbers that ESPN pitched to the remaining Pac-12 schools on their next television contract, and to say it was a lowball offer is an under statement.
"The number that I heard from a few people last week is $24.5 (million), which is brutal. It's not even close to being good enough. I would say if the Pac-12 wants to keep schools involved, its got to be closer to the lower $30s as a starting point. Now, it could be a situation where ESPN did that on purpose, that could be the offer, we don't really know. It could be a low offer and then the Pac-12 adds other sources to raise that amount, which I think is probably the most likely situation.
"The initial ESPN that I've heard is $24.5M, and that absolutely won't come close to keeping the conference alive."
Here is the video of the conversation between Scheer and SicEm365.
Scheer also addressed a question that arose from a SicEm365 interview last week, where Denver Post columnist Sean Keeler said that "the administration at (Colorado) views the Big 12 as a JUCO league," making it hard to see the Buffs coming back home to the Big 12.
"There is absolutely a group of schools in the conference that feel that way," Scheer said of Keeler's claims. "I don't know if I'd go as far as to say a JUCO league, but I absolutely think that there are schools in the (Pac-12) conference that are arrogant.
That's why the Pac-12 is here in the first place. The Pac-12 could've expanded years ago and basically decided it didn't need to. Schools like Washington, Oregon, Colorado appears to be one of them. They think they're better than the Big 12, that staying together in the Pac-10 or whatever it may be, with the academics and all that, they can make and argument that they're better than the Big 12.
"Then there are schools like Arizona that feel like there's benefits to the Big 12 as well. I absolutely think it's a thought process, and it has fractured the conference."
There are plenty more details to emerge in the future concerning the Big 12/Pac-12 Arms Race, a race that will likely run right into the 2022 football season.