Big 12 News
Big Ten Considering Four More Pac-12 Schools: Report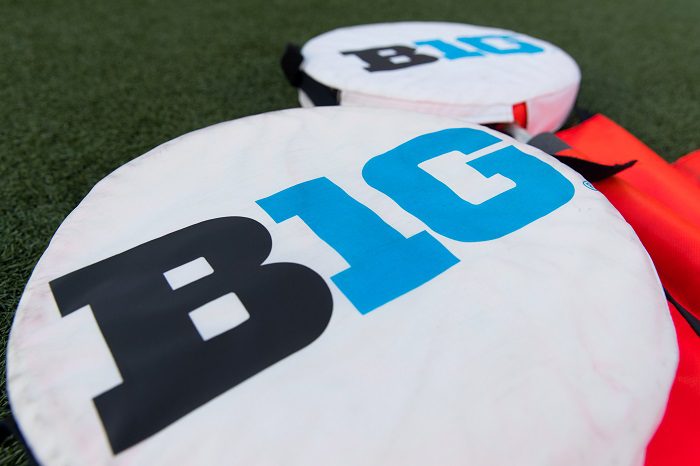 The Big Ten changed the entire landscape of college athletics around one month ago when it poached USC and UCLA from the Pac-12.
After reports declared that the conference would then wait on Notre Dame before looking to expand elsewhere, it appears that the Big Ten may be growing impatient with the Fighting Irish and looking at other options.
According to CBS Sports' Dennis Dodd, the Big Ten is, "evaluating the worthiness of adding Cal, Oregon, Stanford and Washington," and looking to potentially expand its conference to at least 20 members.
Dodd also went on to say that while he didn't confirm expansion activities, Big Ten Commissioner Kevin Warren told CBS Sports that any additions beyond USC and UCLA would come after the conference finalizes its current media rights deal in August.
"We're not 'targeting,'" Warren said of the four programs mentioned above. "Like I said, my focus is on taking care of our 14 institutions."
Warren took the stand at Big Ten Media Days on Tuesday and his message, unlike that of Greg Sankey's, was bold in tone, and seemed like a hidden warning that the conference might not be done adding pieces.
"From an expansion standpoint, the answer is … we're not in the market, but we're always looking for what makes sense," Warren told CBS Sports.
"I get asked every single day, 'What's next? It may include future expansion, but it will be done for the right reasons at the right time with our student-athletes, academic and athletic empowerment at the center of any and all decisions that we will make regarding any further expansions."
Warren then took a page out of Big 12 commissioner Brett Yormark's book, and said that his conference would only expand if it added value to the Big Ten.
"We will not expand just to expand," Warren said. "It will be strategic; it will add additional value to our conference."
When asked what criteria he is using in expansion, Warren was transparent about his approach and what is important when evaluating schools as future additions.
"Goodness of fit. That's more the holistic viewpoint," Warren told CBS Sports. "Under that, it's the academic stability. Two, the athletic strength. Three, their alumni base. Four, their fan base. Five, the progressive nature of their leadership. That's what made USC and UCLA so special."
It is worth noting that Cal, Oregon, Washington, and Stanford are all members of the American Association of Universities (AAU), which is considered the nation's top collection of research universities. All the members of the Big Ten, excluding Nebraska (A member until 2011), are among the AAU's membership.
This obviously has major implications for the Big 12, as those schools potentially leaving the Pac-12 to die would mean the Big 12 would almost certainly absorb the likes of Arizona and Utah, plus other potential boarding partners.
What the report means at this very moment is anyone's guess, but it certainly will be heard by schools out west looking for potential landing spots. At this point it feels like everyone is looking for a lifeboat, but nobody has quite committed to jump. Eventually, given the offer ESPN just made for the remaining Pac-12 members television rights, its only a matter of time before the dominoes start to fall.