Big 12 News
Oklahoma State's 2023 Recruiting Class Updates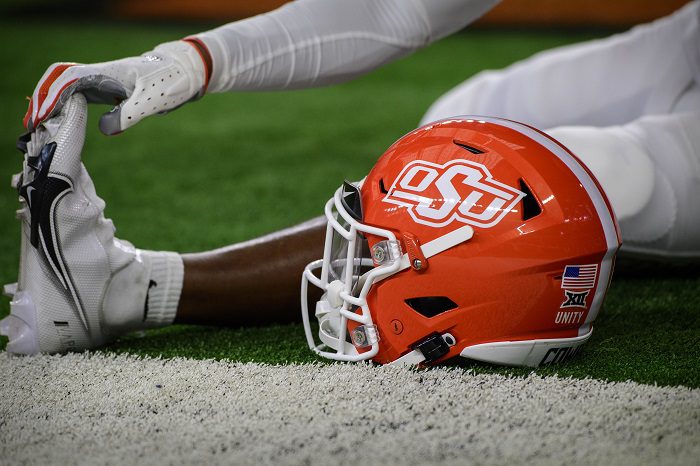 Oklahoma State finished with the No. 35 ranked recruiting class for the 2022 cycle, headlined by guys like Ollie Gordon and Talyn Shettron. Now that all those guys are officially on campus, we turn our attention to the 2023 class, where Mike Gundy and Co. have already made some headway.
So far, the Pokes have 10 verbal commitments for the class of 2023, who all add up to the No. 53 class in the country. Today I'll be going through OSU's recruiting class as of today, as well as the prospects that the Cowboys are in play for.
Of course, all of the players in this class still have a whole year of high school football to go through until they eventually make their way onto a college campus. The Cowboys could easily make impressions on guys we haven't heard of yet or the players that are committed could have their ratings adjusted between now and a year from now.
2023 Commits
As it stands, the Cowboys' 2023 recruiting class is topped by recently-elevated four-star athlete Jelani McDonald, out of Conally High School in Waco. McDonald is ranked 315th nationally and 21st among athletes. Behind him is Elite 11 standout quarterback Zane Flores, who ranks as the No. 24 quarterback in the country and will eventually compete for the starting job once Spencer Sanders moves on.
Defensive lineman Jaedon Foreman comes by way of Del City, Oklahoma, and has the tools to become the next underrecruited Oklahoma defender to break out in Stillwater. Houston pass catcher Camron Heard is the 75th-ranked wide receiver in the class and Oak Grove, Louisiana, athlete Kam Franklin ranked No. 58 among athletes.
Two underrated defenders, in my opinion, in the class are cornerback Dylan Smith and linebacker Poasa Utu, neither of whom crack the top 700 players in the country according to 247sports. Smith, who I predict will get a rating bump at the conclusion of his senior season, is the younger brother of current Pokes corner Cam Smith. Utu is the 81st-ranked linebacker in the class who also runs track at Kennedale high school in Kennedale, Texas, recently winning a district title in the shot put.
The class is rounded out by three-star offensive linemen Jack Endean out of Tucson, Arizona, and Stillwater's own JaKobe Sanders, and Trinity high school defensive lineman Ricky Lolohea.
Prospects
Oklahoma State is currently in the running for a handful of sought-after prospects. The top guy being four-star safety Jordan Sanford out of Arlington, who would be the Cowboys' top-rated commit of the class.
Four-star running back Parker Jenkins is high on OSU after a visit in June, with 247Sports having the Cowboys and LSU as the two frontrunners for the Houston running back. Cedar Hill, Texas, linebacker Kylan Salter is a three-star prospect and the No. 52 linebacker nationally who has offers from Utah, Colorado, TCU and Texas Tech among others.
Lastly, three-star offensive tackle Ethan Thomason is a dominant lineman being looked at by BYU, Stanford, Utah and Iowa State, with Oklahoma State looking like it's in a good spot so far.