featured
It's Time For NCAA to Move on From Kansas Basketball Investigation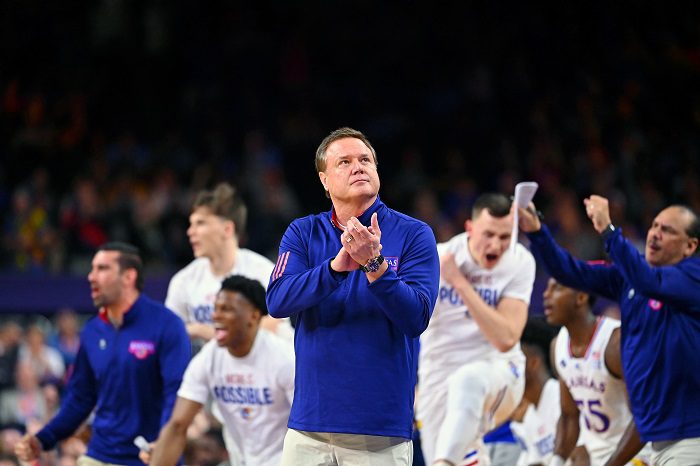 The NCAA and their investigation of the Kansas Basketball program has gone on long enough. It's time to move on.
Allegations have been looming over head coach Bill Self and the Kansas basketball program for years at this point. It was 2019 when five level one infraction allegations reigned down on the program.
Allegedly, Adidas representatives were paying recruits and supposedly Self and assistant coach Kurtis Townsend were "in the know" about all of this. Both have denied the allegations and in turn, there has been a long waiting period on any punishment.
There have been rumors that Kansas could forfeit games, lose scholarships, be banned from the postseason, or see coaches, including Self, suspended for an undetermined period of time. This past week, Self and Townsend took themselves off the recruiting trail as self-imposed sanctions. Some think this is an effort to play nice with the NCAA and do something small that can give themselves and Kansas some goodwill going forward.
Here's the thing: the NCAA is losing control and power by the day. With name, image and likeness (NIL) permeating every aspect of college athletics these days, the NCAA can't control things like Adidas giving players money. That's a part of the landscape of college athletics at this point.
If players are good enough, they can make some money in an NIL deal. Instead of being dealt with under-the-table, like had been the case for decades across the board in the NCAA, these deals can be made out in the open. If NIL would have been part of the process a couple of years ago, there would be no investigation.
What is taking the NCAA so long to come to a conclusion in this case? No one knows for sure, but it's been too long. Kansas has been in line for the top seed in the tournament (before the NCAA tournament got canceled in 2020 due to COVID-19) and won an NCAA Championship all while the NCAA has been collectively twiddling their thumbs during this process.
Even the great Dick Vitale chimed in on the subject a couple of days ago, saying he thinks Kansas should be in the clear at this point.
If a case has gone on for longer than two years, it should be dropped. I couldn't agree more. If they found Bill Self and the University of Kansas in the wrong, they should have made a ruling by now.
They've had all the facts in front of them and don't want to do anything about it. Whether they are afraid of coming down too hard on an elite program, or really just don't know what punishment to serve, it needs to be laid to rest.
The University of Kansas basketball program is in a fine place. They are coming off a National Championship season. Self and company just had a top-five recruiting class. The NCAA profits off the Kansas basketball program being elite and they don't want to disrupt that.
Even ESPN college basketball analyst Jay Bilas thinks enough is enough. When asked about the process back in April when the Jayhawks were in the Final Four, he had some interesting things to say.
"When you get into the meat and bones of it, a lot of people wonder why this is even happening." Bilas said. "To me, the issues themselves don't rise up to the hype and discussion around it."
"There's a thought that there needs to be a starting-over point in the entire process. If you start this whole thing over, you drop the case." Bilas added.
It's time to call off the dogs. It's time to officially put an end to the investigation. It's time for the NCAA to let it go. It's time to move on and let Kansas get back to business without having this cloud of nothingness hanging over the program.