Big 12 News
Kansas Basketball's New Additions Get Official Measurements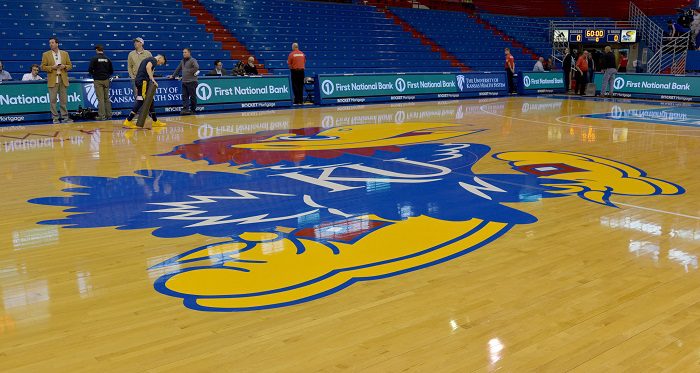 The Kansas Jayhawks have undergone a soft-rebuild and overhauled a roster that lost a majority of their minutes and scoring from last year's National Championship team.
They'll be missing guys like Ochai Agbaji, Christian Braun, Remy Martin, Mitch Lightfoot, and David McCormack Sure, it was great that Jalen Wilson returned to the squad. They'll rely on his leadership and scoring ability.
However, there is a new wave of players set to take over the hearts and minds of the Jayhawk faithful. Kansas had the fourth rated recruiting class in the nation and many of these young guys should be ready to come in and have a role from day one.
Recently, Kansas announced what numbers the new players would wear along with their official height and weight. Let's match the players with their numbers.
Gradey Dick, #4, 6-foot-8, 205 lbs.
Dick will be wearing the number four and you can find his jersey hanging in sports stores around the Kansas City area. Dick is expected to be a big part of the Kansas basketball program this season and could push for a spot in the starting line up. At the very least, it is anticipated that he will be a regular contributor from day one.
MJ Rice, #11, 6-foot-5, 202 lbs.
Rice will have a lot to play for wearing the number 11 on his jersey. Former Jayhawk great Jaqcue Vaughn wore the number in the mid-90's and was a fan favorite. If you had a Vaughn jersey, it might be wise to dust it off and get ready to wear it again this season. Rice is another freshman that will see the court plenty from the start of the season.
Ernest Udeh Jr. #23, 6-foot-11, 240 lbs. 
Udeh Jr looks like he will be a beast. A big man wearing #23 is a bold move, but I think it could pay off for him. The Jayhawks need a big man to step up and Udeh Jr looks like he could be the man to fill that role. He can be the defensive force in the middle and the points in the paint guy and has what it takes to start from day one if Self wants to have a big man in the starting rotation.
Zuby Ejiofer, #35, 6-foot-9, 235 lbs.
Ejiofer could be a surprise contributor this year.The other guys ahead of him on this list were higher rated prospects but Ejiofer will be fighting to prove to Self that he deserves some playing time his freshman year. Many have been impressed by him during summer camp so keep an eye on #35 as the season gets underway.
Kevin McCuller Jr. #15, 6-foot-6, 210 lbs.
McCuller Jr is a transfer from Texas Tech who is expected to be a starter from day one. He can play all over the court from point guard to power forward. Even though he may be a one year wonder for the Jayhawks, he could still become a fan favorite for some. Just like Remy Martin had a big effect on the Jayhawks National Title run, Jayhawks fans are hoping McCuller Jr. can bring a similar edge to his game and a veteran presence in a younger locker room.
Wilder Evers #12, 6-foot-3, 190 lbs.
The preferred walk-on always wanted to be a Jayhawk. His mom and dad ran track at KU and his brother is currently on the Jayhawks baseball team. His grandfather is the associate athletic director for student athlete development so the ties run deep in Lawrence, Kansas. Jayhawk fans love to see walk-on players late in games when KU is en route to a big win. Evers could be the next fan favorite, so be sure to look for #12 coming off the bench over the next few seasons.
In the heat of the summer, it's fun to get some new information like jersey numbers leading up to football season and before basketball season gets underway. It's just another thing to look forward to for KU basketball fans.