featured
George Kliavkoff Takes Shot at Brett Yormark, Suggests Pac-12 Could Raid Big 12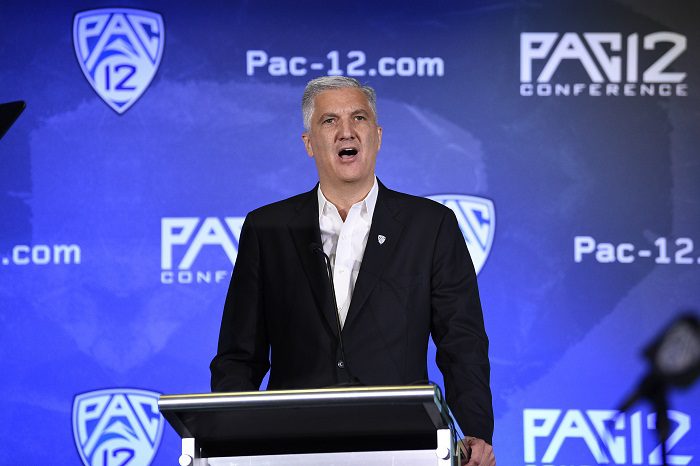 Pac-12 Media Days are underway in Los Angeles, California, although they no longer own that market after both schools in the area defected to the Big Ten last month.
Still yet, the conference's commissioner, George Kliavkoff, portrayed a position of opportunity by saying that the conference was "actively exploring expansion opportunities" in his opening statement.
Naturally, when the floor was opened for questions, Kliavkoff was presented with a question concerning the comments made by Big 12 Commissioner Brett Yormark a couple of weeks ago, saying that the Big 12 was "open for business." That question sparked a fire in Kliavkoff and that is when the gloves came off.
"I appreciate that," Kliavkoff said of Yormark's statement, "We haven't decided if we're going to shop there or not."
Woof. Talk about throwing shade at the new guy. The idea that the Pac-12 would be able to lure teams away from the Big 12, given its position right now, is just asinine.
The Big 12 actually had the liberty of grabbing the best expansion teams out there with BYU, Cincinnati, Houston, and UCF after Texas and Oklahoma defected to the SEC last summer. That leaves Kliavkoff with little options on the table, and a ticking clock with media rights deals being worked across the country. It was clear that the Pac-12 commissioner was frustrated with where his conference stands.
Kliavkoff didn't stop there though, as he had much more to say about the Big 12 later in his time at the podium. In fact, he went on to claim that the Big 12 was "lobbing grenades" at his conference in an attempt to destabilize it.
"I've been spending four weeks trying to defend against grenades being lobbed by the Big-12 trying to destabilize our conference," Kliavkoff said. "I get why they're trying to destabilize us."
Why is Kliavkoff going after the Big 12, and not the Big Ten, who took two of his best brands. Well, the answer is simple actually: The Big 12 is a threat to end his conference for good, and he knows it.
Still, publicly reprimanding Yormark for exploring expansion options while also making the "shopping" comment in the same address makes little to no sense, especially when the Pac-12 is in such an unstable position right now. When your best options of expansion are Fresno State and SDSU, you are in no place to be "lobbing grenades" of your own.
The stance that Kliavkoff took while on stage was one of anger and frustration, but it is hard to blame the guy. Brett Yormark, who isn't even officially on the job yet, has already done more for his conference than Kliavkoff has in the year that he has been the Pac-12 commissioner. That is why the Pac-12 is in the position that it is, and Kliavkoff has nobody to blame but himself.