Baylor Bears
Pac-12 Commissioner George Kliavkoff is Scared of Brett Yormark and the Big 12 Conference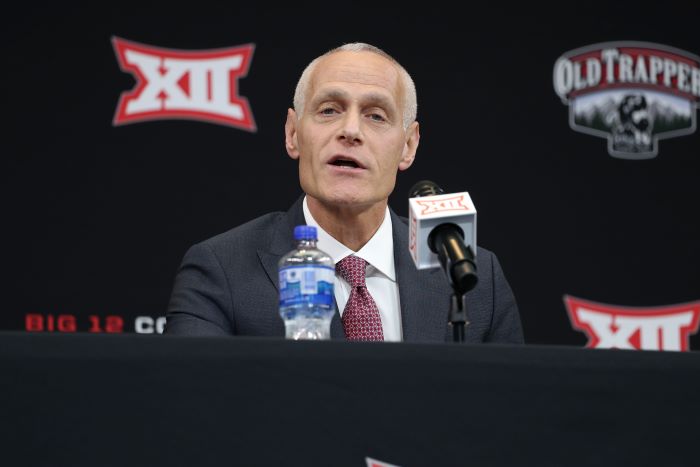 One year ago, we were all wondering what was going to happen with the Big 12 Conference. After news broke that Texas and Oklahoma were leaving for the SEC, it felt like mass chaos for weeks on end.
Things even got a bit ugly as Big 12 commissioner Bob Bowlsby blamed ESPN for breaking up the conference. In the end, things turned out well for the Big 12 as they added four new schools in UCF, BYU, Cincinnati and Houston. Now here we are one year later, and the Pac-12 is in a similar position with USC and UCLA leaving for the Big Ten.
However, ESPN and the Big Ten aren't the ones getting blamed here, it's the Big 12.
During Pac-12 media day on Friday, Pac-12 commissioner George Kliavkoff took a few questions and when he was asked about incoming Big 12 commissioner Brett Yormark's comments about "being open for business", George fired back saying, "I appreciate that. We haven't decided if we're going to shop there or not."
George Kliavkoff then even took it one step further. "I've been spending four weeks trying to defend against grenades being lobbed by the Big-12 trying to destabilize our conference," Kliavkoff said. "I get why they're trying to destabilize us."
Out of all the possible people and groups to blame for the Pac-12's potential demise, the commissioner is upset with the Big 12? Did Kliavkoff forget that the Big Ten is the one responsible for taking his top two programs? Remember, that conference you made an "alliance" with, George? The one that was written on a cocktail napkin last year?
Yeah, that's who you should be blaming because Big Ten commissioner Kevin Warren took that alliance the napkin was written on and wiped his rear end with it.
During the entire time George Kliavkoff was talking he mentioned the Big 12 FIVE times. Five. Do you know how many times Brett Yormark mentioned the Pac-12 by name at Big 12 media days? Zero. So please tell me who is really scared of who here.
It's so bad that George Kliavkoff can't keep the Big 12 out of his mouth. Is Brett Yormark keeping George awake at night or giving him nightmares? I wouldn't be surprised. The Big 12 has George Kliavkoff shook and it was fairly obvious during his press conference because you could clearly tell he was frustrated. Did anyone see that with Brett Yormark during Big 12 media days? Absolutely not. He was calm, cool and collected.
Also, what is this nonsense talking about the Pac-12 shopping? Where in the world is the Pac-12 going to shop? The Sun Belt? The Mountain West?
He certainly can't be talking about any Big 12 schools because it would be program suicide to leave the Big 12 for the Pac-12 right now. If the Pac-12 was a person going shopping they would be that person who walks into a Gucci store telling everyone they are going to buy it out and when they empty their pockets, lint comes out.
In the end, it's all talk with Kliavkoff. So go ahead, George. Keep beating your chest and pretending that your conference is in great shape to the point where it could poach other Power Five schools. It just shows that you are living in a fantasy world.
Friday's press conference from Kliavkoff was all talk so a handful of the national writers can continue to carry the league's water.
Everyone outside of George Kliavkoff, Stewart Mandel, Jon Wilner, and John Canzano know that the Pac-12 is a dead conference barely staying afloat. And when that ship sinks, the rest of college football will be picking up the pieces at the bottom.
And as for how they got there? If history is correctly told, no one will be able to blame the Big 12 Conference.