Big 12 News
George Kliavkoff Says He's Asked Brett Yormark for Big 12 Teams to Stop Soliciting Pac-12 Teams to No Avail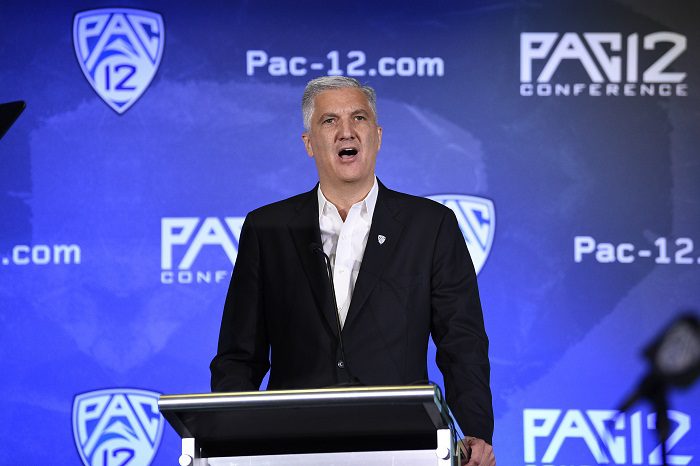 Another day, and another sad song from Pac-12 commissioner George Kliavkoff.
Kliavkoff sat down with 247Sports for a one-on-one interview to discuss what has been a roller coaster of a month for the Pac-12 Conference ever since UCLA and USC announced they would be leaving for the Big Ten.
There was the usual moping about the Big 12 looking into adding Pac-12 teams (instead of actually being mad at the Big Ten and UCLA/USC), and then there was one notable question asked by 247Sports that brought up another opportunity for Kliavkoff to take a shot at the Big 12.
247Sports' Brandon Marcello asked, "Have you asked Big 12 commissioner Brett Yormark step in and ask his membership to not solicit the Pac-12?"
Kliavkoff responded, "I've said it to him multiple times. The behavior has not stopped."
Incase you missed it, during Pac-12 media day on Friday, Kliavkoff took a few questions and when he was asked about incoming Big 12 commissioner Brett Yormark's comments about "being open for business", George fired back saying, "I appreciate that. We haven't decided if we're going to shop there or not."
George Kliavkoff then even took it one step further. "I've been spending four weeks trying to defend against grenades being lobbed by the Big-12 trying to destabilize our conference," Kliavkoff said. "I get why they're trying to destabilize us."
Add this to the litany of other shots that the Pac-12 commissioner took at Brett Yormark and the Big 12 in recent days, and let's hope Brett Yormark is as cut-throat in his new job for the Big 12 as he was during his time in professional sports.