Trending Now
Lincoln Riley Admits He Knew USC Might Leave Pac-12 When Taking Job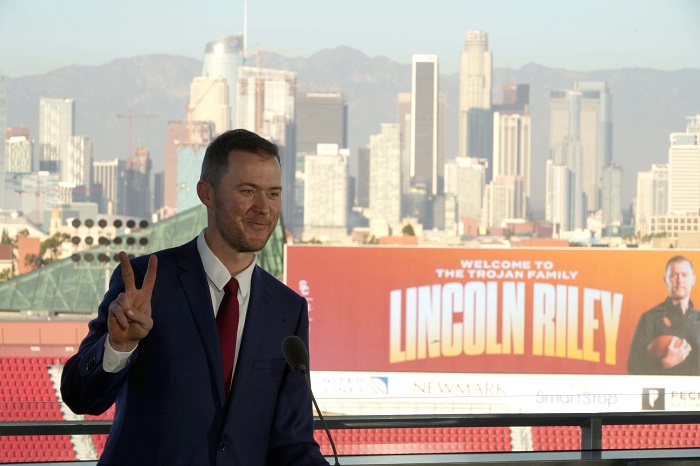 Lincoln Riley seems to be a perfect fit for USC, with the school and Riley shocking their peers with their respective moves. After many speculated that former Oklahoma head coach Lincoln Riley may have left the Sooners due to the future move to the SEC, it has come out that Riley knew about USC's openness to future conference realignment.
As we learn more about USC's and UCLA's move to the Big Ten, the news seems to get uglier and uglier. The PAC-12 has been in dismay since June 30th, when the two schools announced they would be heading to the Big Ten in August of 2024. This comes after USC President Carol Folt shut down expansion talks for the Pac-12, as she was surprised and did not understand why the Pac-12 wanted to expand. One source stated, "Carol shut it down," with another source saying, "She cooled the whole process."
With Texas and Oklahoma on the move, it would make sense to try and poach teams out of the Big 12 Conference, but USC had other plans and according to LA Times, they kept Riley in the loop.
"I had a little bit of a heads up with it," Riley stated. "We had conversations when I took the job, not specifically about the Big Ten, not about an imminent move, but we knew we were going to have o monitor the landscape of what's going on. You have to be on the forefront, and so I'm glad our people were progressive enough to seize what I think is going to be a great opportunity. I certainly understand the reasons behind it and fully support it."
Not only did Lincoln Riley arguably sabotage Oklahoma last season, but it looks like USC sabotaged the Pac-12. It is unclear what the Pac-12 is going to do to try to save their conference, but they seem to be in a far worse position than the Big 12 last year, with limited options moving forward.