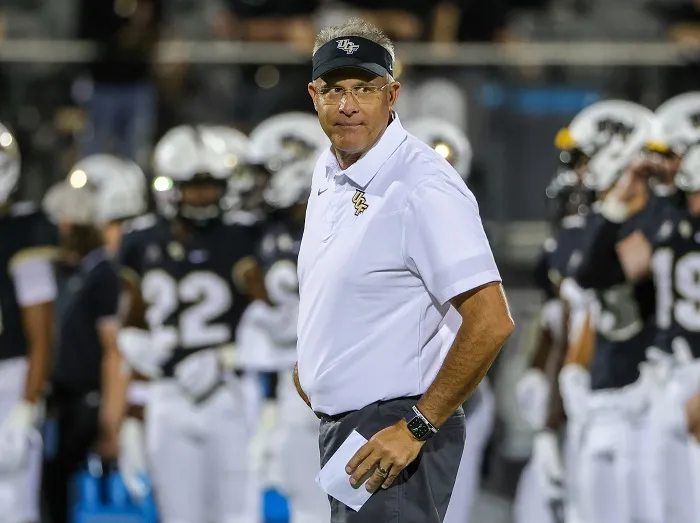 One could argue that UCF isn't a program on the rise because it's already there. The Knights (formerly known as the Golden Knights) came to FBS status back in 1996. After about ten years of lackluster seasons the program found their first success at the FBS level under head coach George O'Leary.
O'Leary led the program to its first bowl appearance in 2005 and their first conference championship in 2007. He would go on to lead UCF to three more conference titles after that before calling it quits in 2015.
Then it was up to Scott Frost to take the program to the next level, and he certainly did. Frost took over an 0-12 team in 2016 and in just two seasons led them to their first undefeated season in school history in 2017. The Knights went a perfect 13-0 and ended the year with a win over Auburn in the Peach Bowl. They also claimed the national championship that season, but that's a story for another day.
Frost would end up leaving after the magical 2017 season and Josh Heupel would be the next head coach. Heupel would win a conference title in his first season and followed that up with a ten-win season in his second year. 2020 was a down year by program standards and once again, UCF was looking for another head coach as Heupel left to take the job at Tennessee.
Then came Gus Malzahn who was hired last year. Many fans remember him during his time at Auburn as an offensive coordinator and a head coach. Malzahn spent a total of 12 seasons at Auburn and won an SEC title in 2013. In his first season as head coach at UCF, Malzahn went 9-4, which was an improvement from the 6-4 record the team had in Heupel's last year. The Knights ended last season on a high note with a win over in-state rival Florida in the Gasparilla Bowl.
While Malzahn's resume is impressive what has been equally as impressive is what he is doing on the recruiting trail. While UCF's 2023 class ranking may not turn heads, just look at their commitments. The Knights just landed their fourth four-star recruit in the month of July after Braeden Marshall's commitment on Saturday evening.
With Braeden's commitment, it is the first time in program history that UCF has had more than two high school consensus blue chips, and the first time since 2010 where they've landed multiple four stars. Also, this 2023 UCF class has as many four-star players committed as it has landed from 2011 to 2021.
Gus Malzahn recently noted how the program joining the Big 12 in 2023 has helped the program's recruiting, saying, "We're really looking forward to that. That's a big step. It's really helped us in the recruiting world, so we're really looking forward to it."
Over the last ten to fifteen years, UCF has been a fairly consistent program. They have had seven 10-win seasons since 2007 and have won numerous conference titles as well. The school also has an enrollment of over 70,000, which is the largest in the entire state of Florida. The fan support is there and so is the passion.
They have committed to upgrading the stadium and football facilities as they continue to move forward. Now that they will be in a Power Five conference in the Big 12 next season and the sky is the limit for this program.
It appears that Gus Malzahn has cracked the code for recruiting and I can't wait to see what is in store for this UCF team in the near future. UCF may not be a sleeping giant for much longer if they continue the path that they are on.
They may just be a giant who woke up and the rest of college football is about to find out the hard way.