Baylor Bears
Big 12 Football Coaches Hot Seat Rankings Heading into 2022 Season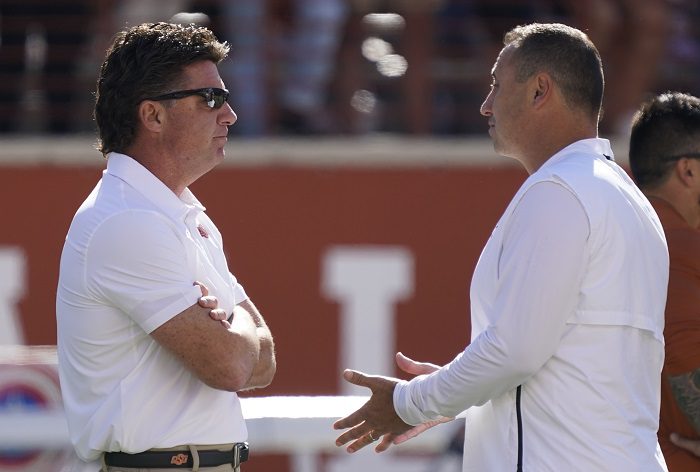 The Big 12 football season is set to get underway later this month and, for a few coaches, it is their first chance to make an impression as their school's new head coach.
For others, this season could be pivotal in whether or not they will be on the hot seat or up for a better job in 2023. Then for some, this season might decide whether a coach has a job, or doesn't, by the time bowl season comes along.
Here are the Big 12 football coaches ranked by the temperature of their seat going into the 2022 season.
10. Dave Aranda, Baylor Bears
Fresh off a Big 12 Championship in 2021, Dave Aranda's Baylor Bears were picked as the favorite to repeat as Big 12 Champs again in 2022. Aranda is one of the hottest names in college football right now and was rumored to be a name for several jobs this offseason. Instead, Aranda stuck around and signed an extension to be the Bears' coach through 2028. Baylor has some production to replace and could fail to meet expectations, but making a bowl game in 2022 seems guaranteed. All things considered, Dave Aranda's job is safe until further notice.
9. Brent Venables, Oklahoma Sooners
If this list were simply about pressure and expectations, Brent Venables' name would be much higher. As the head coach at Oklahoma, Venables is expected to get his team to the Big 12 Championship, win it, and then play in a New Year's Six Bowl in his first year. That is just how things work in Norman, and how they have worked since Bob Stoops turned the program around in 2000. Venables and staff have already done themselves some favors by recruiting the way that they have, so that certainly helps, but Sooner Nation will show some patience with Venables considering the turnover that Oklahoma has seen in the last calendar year.
8. Sonny Dykes, TCU Horned Frogs
In his first season on the other side of the Dallas Fort Worth Metroplex, TCU head coach Sonny Dykes will be tasked with replacing legendary coach Gary Patterson. The good news? He sits in one of the richest talent pools in America and is well-versed in what it takes to recruit well there. In his first year, getting TCU to a bowl game would be viewed as overachieving, so there is time for Dykes to build his roster. However, the Horned Frogs have a successful history in this conference, and dropping more than seven or eight games might cause speculation about his status to rise in Year 2.
7. Mike Gundy, Oklahoma State Cowboys
Oklahoma State head coach Mike Gundy is heading into his 18th year with the Pokes and is coming of a 12-2 year that was one of his best to date. Now, he loses his defensive coordinator and a bunch of pieces that made his defense in 2022 special. In the three years prior to 2021, Gundy was a combined 23-14 and was certainly feeling his seat get warmer. Last year certainly changed the way that Oklahoma State fans viewed Gundy, but would an 8-4 season put the pressure right back on him? It's hard to say, but OSU likely won't have to worry about that in 2022.
6. Matt Campbell, Iowa State Cyclones
Iowa State is coming off a season where they were picked to win the conference by several outlets, and started the year ranked No. 7 in the AP Poll. Well, the season didn't go as many planned it would, and the Cyclones finished 7-6 (5-4 Big 12) and well outside the Top 25. Campbell is now tasked with replacing Brock Purdy and Breece Hall, and likes what he has in the cupboard. If he can lead Iowa State back to a bowl game in 2022, Campbell will continue to be the guy in Ames, without question.
5. Joey McGuire, Texas Tech Red Raiders
Joey McGuire is on the "hottest" seat of the new head coaches in the Big 12, and here's why. Since the Red Raiders hired him, they have done nothing but throw funding towards building a better program, roster, and facilities to make Texas Tech the premiere program in the Big 12 once Oklahoma and Texas leave in 2025. Now is that fair to McGuire? No. Especially when you consider the difficulty of TTU's schedule in 2022. He won't be on the hot seat right away if Tech drops a bunch of games, but he will be expected to improve in Year 2 or he could be on a hot seat heading into 2024.
4. Lance Leipold, Kansas Jayhawks
Kansas went 2-10 in 2021, but one of those wins was against Texas on the road. That win alone likely gives Leipold the 2022 season to not worry about his job, but going 2-10 again this year would be extremely disappointing. With an influx of transfer talent and some key pieces to build around, Kansas is expected to improve, and that might mean just three or four wins. If they can get there, this season would be considered a success and 2023 would be time to start talking about a bowl game. However, winning two or less games would make next year make-or-break for Leipold.
3. Chris Klieman, Kansas State Wildcats
Kansas State has gone 8-5, 4-6, and 8-5 in Chris Klieman's first three seasons, and while a 20-16 record isn't necessarily a bad thing, Klieman has had the "luxury" of having a roster to build. Now, he has a roster that includes two All-Americans and several others capable of being on an All-Conference list at season's end. With that being said, Klieman's team will be expected to improve in Year 4, and that means winning nine or more games. K-State is more than capable of doing that, but if for some reason they can't, Chris Klieman's seat could be getting warm going into 2023.
2. Steve Sarkisian, Texas Longhorns
The pressure is on for Steve Sarkisian in Year 2 after he led Texas to a 5-7 record in 2021. Now, after bringing in a ton of offensive talent through the transfer portal, expectations are high in Austin, as they always are. Sark also brought in former TCU head coach Gary Patterson to help with a defense that ranked near the bottom of the country in several categories a year ago. If Sarkisian can get to eight wins in 2022, it will likely see him get another year or two of grace after landing Arch Manning in the 2023 recruiting class. However, if he lays an egg and goes 5-7 again, Sark could get the boot.
1. Neal Brown, West Virginia Mountaineers
The West Virginia head coach comes into the 2022 season after going 6-7 (4-5 Big 12) last year when they were expected to take a step forward. Then, the flood gates opened and the Mountaineers saw thousands of plays worth of experience leave through the transfer portal over the past offseason. WVU has added a new offensive coordinator Graham Harrell from USC, as well as former USC and Georgia quarterback J.T. Daniels. The offense is expected to be much improved this year, and it had better be. If Neal Brown doesn't win at least seven or eight games in 2022, he will be looking for employment elsewhere.