Big 12 News
Pac-12 Commissioner George Kliavkoff Believes He Holds This Edge Over the Big 12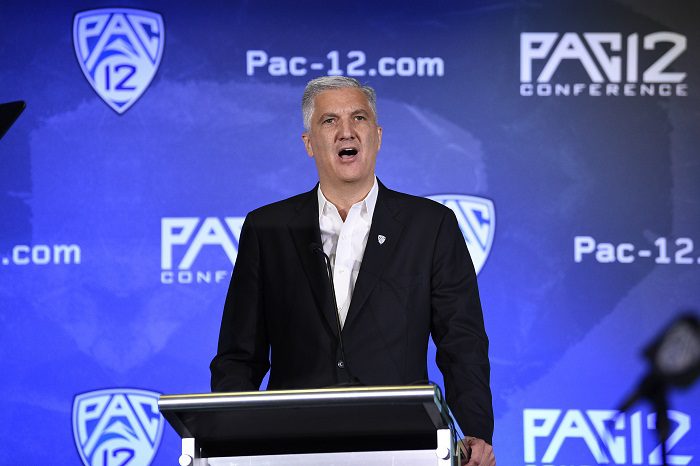 Last week, Pac-12 Commissioner George Kliavkoff went to war with the Big 12 during his time at the podium at Pac-12 Media Days.
Kliavkoff was presented with a question concerning the comments made by Big 12 Commissioner Brett Yormark at Big 12 Media Days, saying that the Big 12 was "open for business." That question sparked a fire in Kliavkoff and that is when the gloves came off.
"I appreciate that," Kliavkoff said of Yormark's statement, "We haven't decided if we're going to shop there or not."
Kliavkoff did his best to try and maintain an image of power and stability, and even went as far as to say that he understands why the Big 12 is "scared."
"I've been spending four weeks trying to defend against grenades that have been lobbed in from every corner of the Big 12 trying to destabilize our remaining conference," Kliavkoff said. "And I understand why they're doing it. When you look at the relative media value between the two conferences. I get it. I get why they're scared."
Kliavkoff clearly feels that he has some sort of advantage over the Big 12 when it comes to conference realignment, and Jason Scheer of Wildcat Authority, a 247Sports affiliate site, says that it has to do with projections.
Now, it doesn't take more than a couple minutes worth or research to see that the Big 12 is in a better place financially going forward than the Pac-12 is. Projections are used in business, that's just a part of the world that we live in. So, for Kliavkoff to use that as a detriment is just absurd.
According to Navigate's projections, the Big 12 member schools are projected to receive an estimated $40.6M a piece, while the Pac-12 schools are estimated to see $34.4M per school. Now, these projections were made back in March and well before USC and UCLA decided to leave for the Big Ten.
Whether Kliavkoff wants to believe it or not, the Pac-12 has a Big 12 problem and if he'd better take Brett Yormark and his conference seriously, or he could be without a job, or a conference, sooner rather than later.