Kansas Jayhawks
Big 12 Football Mailbag: Adding ACC Teams, Joey McGuire Hype, Kansas Improvement and TCU Ticket Drama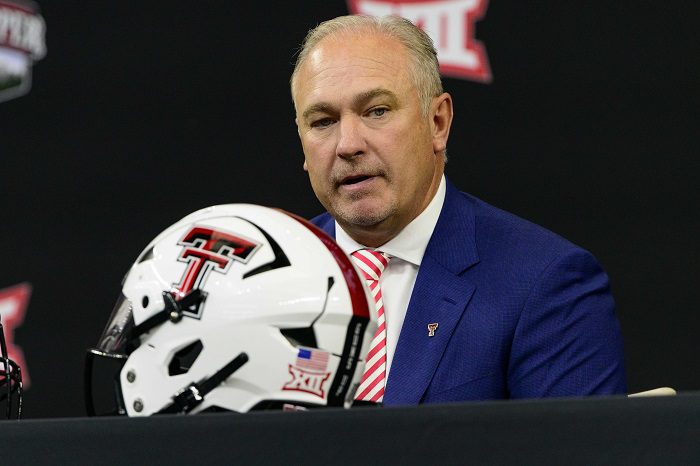 Welcome to the HCS Big 12 mailbag. This mailbag is for all you football junkies out there who root for a Big 12 school who not only have questions about your team, but other teams in the conference as well. So, join me, grab a cold brew or your favorite drink and relax as I answer all your Big 12 questions in my mailbag.
I want to thank each one of you who submitted a question this week and for tonight's drink of choice? It's an ice-cold Dome Faux'm beer from 8th Wonder Brewery in Houston. Cheers!
@fraseriii asks: Over/under 1.5 Big 12 road victories for the improving Kansas Jayhawks?
Duke: Well @fraserii, thank you for kicking off the mailbag for the 2022 season. As for the Jayhawks, you're right, they are definitely improving. When I look at the Big 12 schedules for this season, Kansas had the second toughest schedule in the Big 12 in my opinion. Take a look at their road games here. They have to go to West Virginia, Oklahoma, Baylor, Texas Tech, and Kansas State. I don't see them knocking off Baylor, Oklahoma, or Kansas State on the road. That leaves just West Virginia and Texas Tech. Maybe they can pull an upset in one of those games, but I don't see them winning both. I am going to take the under here.
@jsamTTU asks: Should Texas Tech fans be excited about Joey McGuire or cautious?
Duke: Not to be rude here, but why wouldn't a Texas Tech fan be excited about Joey McGuire? The man has brought energy to that program that I haven't seen since I started covering this conference. Money is flowing into the program which is great, and he is a great recruiter with tons of ties in Texas because he was a former high school football coach. He's a winner everywhere he has been and if the school commits to him and gives him some time, I think Texas Tech has a bright future ahead. I will say, I was never a fan of the Matt Wells hire a few years back, but I feel a lot better about Joey McGuire than I did with Matt Wells. Just give him some time to get his guys in.
@ABear91 asks: If you could pick teams from the ACC to add, who and why?
Duke: Honestly, there are a few schools in the ACC that could add some value to the conference. Miami, Florida State, Clemson, and Virginia Tech are four teams I would love to have in the Big 12. They rake in a good amount of money and are national brands. It's all about money these days and if it can help the other Big 12 schools make more money, I am all for it.
@clonesjer asks: Which head coach makes it the longest until they leave their current school: Lance Leipold (Kansas), Steve Sarkisian (Texas), Sonny Dykes (TCU), or Joey McGuire (Texas Tech)?
Duke: This is a great question. Texas Tech, Texas, and Kansas have changed coaches a few times in the last five or six years. It's hard to picture any of these coaches getting fired because nobody has been at their current school for very long either. For me, I would go with Sonny Dykes here. Gary Patterson was there forever, and I believe TCU is a place where they would give Sonny some time to get things back together. As for Lance Leipold and Joey McGuire, I could see them take bigger jobs if they end up having success at their current schools. Of course, if Steve Sarkisian starts winning at Texas, there would be no reason for him to leave but I am still not 100% sold on him just yet. So, it's Sonny Dykes for me.
@RPTexan asks: Derek, what are your thoughts on TCU not allowing single game tickets to be sold for the Tech game. Tech fans must buy a mini package. While it may increase ticket sales, it's likely to cause more empty seats for the other 2 games, plus Texas Tech will still have more fans than TCU in November.
Duke: Welcome back Robert. You truly are an OG of this mailbag so it's always great to hear from you. I think it's tacky for TCU to do that, but they don't want to be shown up in their own backyard. As you know, Texas Tech has a massive alumni base in the DFW area, and they would pack Amon G. Carter Stadium in Fort Worth. I understand why TCU may pull something like this but at the end of the day, it's a bad look for TCU. If they had more fans showing up to home games this wouldn't even be much of an issue at all. And yes, I fully expect Red Raider fans to find their way into that game.