Baylor Bears
Four Big 12 Teams Ranked in USA Today Coaches Poll Preseason Top 25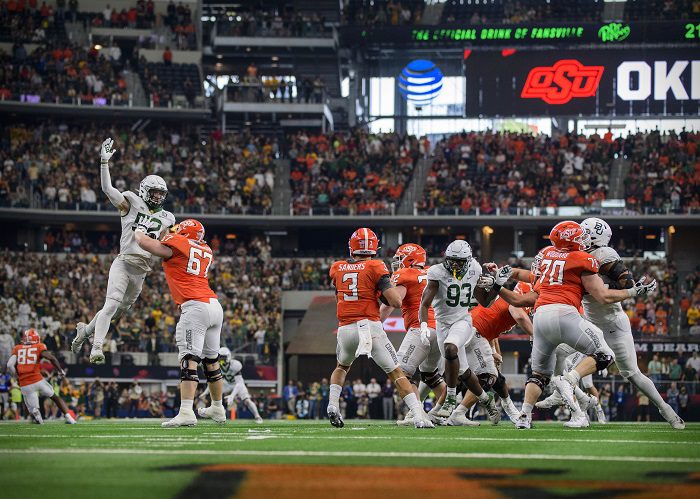 We are officially inching closer towards the start of the 2022 college football season as preseason polls begin to get released.
On Monday, the USA Today Coaches Poll was announced with four Big 12 teams ranked in the preseason Top 25. Leading the way was the Oklahoma Sooners at No. 9, followed by the Baylor Bears at No. 10 and then the Oklahoma State Cowboys at No. 11. The fourth team also ranked was the Texas Longhorns coming in at No. 18.
Interestingly, Texas was the only team other than Alabama, Ohio State and Georgia to receive a preseason No. 1 ranking. Alabama garnered the most first-place votes with 54 out of 66.
As for other Big 12 teams receiving votes, Kansas State received four total votes and Iowa State received three.
As for future Big 12 teams, Cincinnati is ranked No. 22 in the preseason and Houston comes in at No. 25. Meantime, BYU received 152 votes and UCF received 55 votes in the preseason poll.
Here is a full look at the Top 25.
USA Today Coaches Poll 2022 Preseason Top 25
| | | | | |
| --- | --- | --- | --- | --- |
| 1 | Alabama | 0-0 | 1634 | 54 |
| 2 | Ohio State | 0-0 | 1564 | 5 |
| 3 | Georgia | 0-0 | 1542 | 6 |
| 4 | Clemson | 0-0 | 1356 | 0 |
| 5 | Notre Dame | 0-0 | 1284 | 0 |
| 6 | Michigan | 0-0 | 1232 | 0 |
| 7 | Texas A&M | 0-0 | 1219 | 0 |
| 8 | Utah | 0-0 | 1134 | 0 |
| 9 | Oklahoma | 0-0 | 1027 | 0 |
| 10 | Baylor | 0-0 | 891 | 0 |
| 11 | Oklahoma State | 0-0 | 859 | 0 |
| 12 | Oregon | 0-0 | 734 | 0 |
| 13 | NC State | 0-0 | 726 | 0 |
| 14 | Michigan State | 0-0 | 711 | 0 |
| 15 | Southern California | 0-0 | 602 | 0 |
| 16 | Pittsburgh | 0-0 | 450 | 0 |
| 17 | Miami | 0-0 | 433 | 0 |
| 18 | Texas | 0-0 | 383 | 1 |
| 19 | Wake Forest | 0-0 | 381 | 0 |
| 20 | Wisconsin | 0-0 | 369 | 0 |
| 21 | Kentucky | 0-0 | 353 | 0 |
| 22 | Cincinnati | 0-0 | 339 | 0 |
| 23 | Arkansas | 0-0 | 334 | 0 |
| 24 | Mississippi | 0-0 | 327 | 0 |
| 25 | Houston | 0-0 | 257 | 0 |