Baylor Bears
Big 12 Football Mailbag: Iowa State's Ceiling, Big 12 Strengths, Weaknesses and Dream Team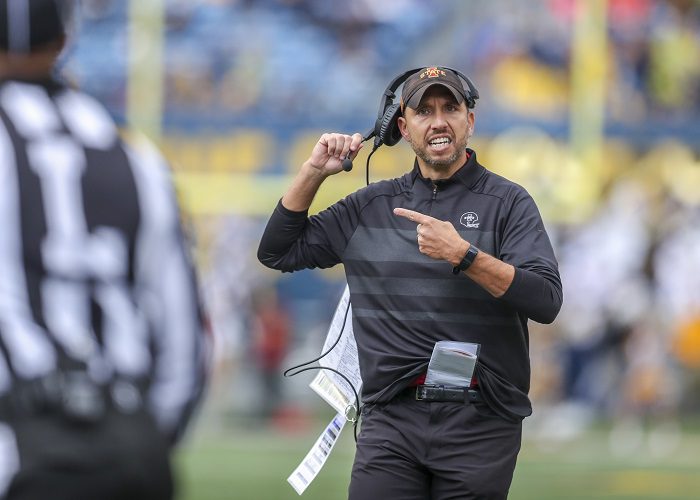 Welcome to the HCS Big 12 mailbag. This mailbag is for all you football junkies out there who root for a Big 12 school who not only have questions about your team, but other teams in the conference as well. So, join me, grab a cold brew or your favorite drink and relax as I answer all your Big 12 questions in my mailbag.
I want to thank each one of you who submitted a question this week and for tonight's drink of choice? A little Ole Smokey apple pie moonshine. Cheers!
@Schmitty27 asks: Texas received a first-place vote in the coaches poll. What kind of odds would you need to bet on the Longhorns making the CFP where it wouldn't feel like burning money?
Duke: Let me start this mailbag off by saying I am skeptical on the Longhorns this year as I am every year. Some people buy into the offseason hype every single year and I am not one of those guys. Last year before the season started, I said Texas wasn't a Top 25 team and people were very upset with my take. Then Texas went 5-7 and people finally shut up about them. I am not saying the Longhorns will go 5-7 again, but I wouldn't buy into any of the hype this offseason. Don't waste your money. Until results start changing on the field, I will never buy into Texas. It's a culture problem not a talent problem in Austin.
@ISUCYfred asks: Which position group in the Big 12 is the strongest and which is the weakest?
Duke: There always seems to be plenty of talent of the defensive line in this conference and I will go with that group once again to be the strongest in the conference. You have Kansas State's Felix Anudike-Uzomah and Iowa State's Will McDonald IV as the two best pass rushers in the Big 12. Those two alone are two of the best in the entire country and then to add to them you have Baylor's Siaki Ika and Oklahoma State's Collin Oliver. Those four are monsters to deal with. I didn't even mention others like Tyree Wilson (TTU) or Brock Martin (OSU). As for the weakest I would probably go quarterback. It may be different when the season ends but right now there are so many new faces at quarterback in the Big 12 and there are still so many questions about them.
@ManningBurner asks: What is Iowa State's ceiling this year?
Duke: I had the Cyclones at No. 6 on my preseason Big 12 ballot. The good news for them is that this conference truly is wide open this season for an underdog to sneak into the championship game. I would say this ceiling for this team is probably 9-3. Offensively I am not sure how they can replace Breece Hall, but the offensive line should be better this season. I like the weapons Hunter Dekkers has with Xavier Hutchinson and Jaylin Noel. The defense will be interesting, but Will McDonald IV is a freak up front, and the back end of the defense has some great young talent. If Dekkers turns out to be the real deal, then 9-3 isn't a crazy thought.
@clone832 asks: Hearing rumblings of other programs complaining that the new bridge in Ames is giving the Cyclones an unfair recruiting advantage. Thoughts on this? Could the NCAA possibly make them cover the bridge when recruits are in town with something perhaps like the Baylor tarp?
Duke: I was actually there for the tarp game in Waco back in 2019. It was hot and the whole tarp thing was completely ridiculous. As for the bridge, I am a sucker for pedestrian bridges. I went to the one in Louisville last year and it had a bar in it! It connected two hotels if I remember correctly. Do you think they could put a Busch Light vendor on the bridge? If so, that would be awesome.
@clonesjer asks: If you ran Duke University (named after you, not the "other Duke"), and could start you program with: A) an Athletic Director B) a Head Coach C) 1 offensive player & D) 1 defensive player from any of the Big 12 programs excepting OU & Texas who do you pick?
Duke: This is a great question, and I will give it my best shot here.
Athletic Director: Mack Rhoades (Baylor)
Head Coach: Mike Gundy (Oklahoma State)
Offensive Player: Kansas State RB Deuce Vaughn
Defensive Player: Kansas State DL Felix Anudike-Uzomah
@KyleGAdema asks: Olivia Newton-John is dead. RIP Sandy. Match each Big 12 football program to a character in Grease.
Duke: Maybe I am not a man of culture when it comes to movies because I wasn't familiar with Olivia Newton-John. I must admit, I have never seen Grease simply due to the fact that I can't stand musicals. I am sure by saying this that I may have lost the respect of a lot of my mailbag readers.
Editor's note from owner Pete Mundo: Derek Duke has been suspended without pay until he watches Grease.