Iowa State Cyclones
Anonymous Big 12 Coach Says Iowa State Had 'Hiccup in Their Culture' Last Season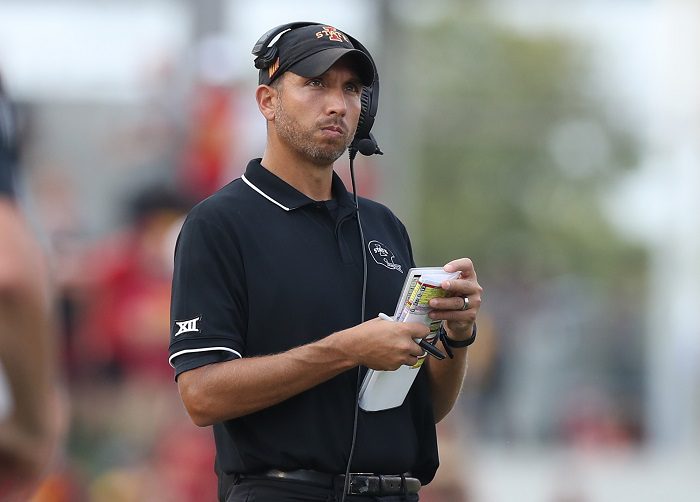 There's no doubt that the 2021 Iowa State football season didn't live up to expectations. Another loss to Iowa was followed by a mediocre 2022 campaign that saw a team with College Football Playoff hype end up going 7-6.
This came one season after a trip to the Big 12 Championship Game, which was followed by a New Year's Six bowl win.
But after so many of those key players like Brock Purdy, Breece Hall and Mike Rose departed, the Cyclones are turning over a new leaf at many positions where Matt Campbell has been building depth.
However, the question still persists: What happened last season?
Athlon Sports did its annual "anonymous coaches" commentary, where coaches can speak freely about their opponents in the conference.
When it came to Iowa State, one coach said, "Last season, I think they had a hiccup in their culture. They weren't as hard-nosed as they'd been before. Some games, they didn't show up as consistently, especially on defense. At first they surprised the league; then they'd out-tough you. Now we're curious what they can do next."
And that's the question everyone outside of Ames has. Matt Campbell has built this program to the point where just getting to a bowl game isn't meeting expectations. That's incredible.
But, the Cyclones do need to get back any edge and toughness they may have lost last season. As much as Matt Campbell is able to now get four-star recruits to come to Iowa State, it's never going to be the most-talented team in the Big 12. There will need to be that blend of toughness, talent, execution and consistency that shows up every single week.
That's what Iowa State did so effectively in 2021 and Iowa State fans want to see if the program can find a way to do it again.